Aldi reports record sales but profits drop amid price war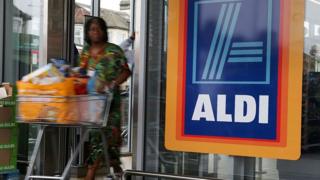 Aldi has reported record sales in the UK and Ireland for last year but its profits have fallen sharply amid a fierce price war among supermarkets.
The German discounter said sales rose 13.5% to £8.7bn in 2016, but operating profit dropped 17%.
The chain blamed the fall on its "continued investment in prices and infrastructure".
Aldi chief executive Matthew Barnes said its strategy was to offer "the lowest prices in Britain".
"We're doing everything we can to insulate customers from those cost increases, making sure our prices are the lowest in the UK, every day of the year," he said.
Aldi, which currently has 726 stores in the UK, said it planned to open a further 70 this year and would invest a further £459m.
The German chain currently has a 6.9% share of the market, according to the latest industry figures from Kantar Worldpanel.
This figure makes it the fifth-biggest supermarket in the UK after Tesco, Asda, Sainsbury's and Morrisons.
---
Analysis: Emma Simpson, BBC business correspondent
The most striking number in these Aldi results is the extra one billion pounds in sales its added in the space of a year.
This business is still pinching customers from rivals.
Critics say Aldi's growth is predominantly space driven – in other words because it's still relatively small it's got lots of capacity to grow, something the big established players don't have.
But when it opens a new supermarket, the shoppers come. They like the prices.
That's one big reason why profits have taken another knock, as Aldi can't afford to be beaten by their big competitors on price.
It's also pouring money into new stores and infrastructure, to keep up with the demand. No sign of a consumer slowdown here.
---
Aldi said that its future investment plans were unaffected by the UK's decision to leave the EU.
It plans to continue its rapid expansion and has said it will have 1,000 stores in the UK by 2022.
"The fact that more and more customers walk through our doors every day of the week gives us the confidence to carry on investing," said Mr Barnes.
While the majority of consumers in the UK still shop at the big four supermarket chains – Tesco, Asda, Sainsbury's and Morrisons – Aldi and its low cost rival Lidl have had a huge influence on the sector.
Their presence has sparked a prolonged supermarket price war and changed consumers' attitudes towards no-frills shopping, eroding snobbery towards discount retailers.