Bank of England in unusual warning about risky business debt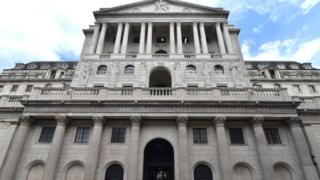 The Bank of England is concerned about the rapid growth in lending to risky UK businesses.
The Bank's Financial Policy Committee (FPC) said there had been £31bn of loans this year to companies that already had a high level of debt.
The loans are packaged up and sold in global financial markets in a process that has been compared with sub-prime lending before the financial crisis.
The Bank also warned about risks to banks from a cliff-edge Brexit.
The £31bn total of so-called "leveraged loans" to highly indebted businesses compares with £10bn of standard lending by UK banks to this type of company.
UK banks are unwilling to make this kind of loan due to the risks involved.
The leveraged loans are then "typically sold to non-bank investors, whose ability to sustain losses without materially impacting financing conditions is uncertain", the bank said.
The FPC said there had been similar increases across Europe and in the US, showing an increased appetite among investors to take risks.
The lending, which is mainly done by investment banks, will be reviewed to see if it poses any risk to financial stability and the ability of companies to service their other debts.
Brexit risks
The Bank of England also said the European Union (EU) should do more to protect cross-border financial services from the risks of a no-deal, or cliff-edge, Brexit, saying there needed to be action.
With less than six months to go until the UK is due to leave the EU, the Bank said it saw risks that insurance, derivatives and the transfer of data could face disruption.
"There has been considerable progress in the UK to address these risks, but only limited progress in the EU," the central bank's Financial Policy Committee said.
"In the limited time remaining, it is not possible for companies on their own to mitigate fully the risks of disruption to cross-border financial services. The need for authorities to complete mitigating actions is now pressing."
The Bank said EU or member state rules would restrict EU households and businesses from continuing to use some financial services provided by UK firms.
In some cases, particularly in insurance, UK financial companies were restructuring so they could continue to serve EU customers post-Brexit, it said, adding actions by firms alone could only be only "partially effective".
"Timely action by EU authorities is needed to mitigate risks to financial stability, particularly those associated with derivative contracts and the transfer of personal data."
Analysis: By Simon Gompertz, business correspondent
This is an unusual warning from the Bank's Financial Policy Committee and it highlights the level of worry about a little understood form of lending.
What has spooked regulators is the way the leveraged loans are sold to investors around the world is so similar to the repackaging of toxic American mortgages a decade ago.
Then there was a sub-prime sales bonanza, led by finance houses which didn't care about the risks, only about the commissions they were earning.
Now the situation is different. The borrowers are highly indebted businesses, not households, and banks have much bigger reserves to help them tough out any shocks.
But the Bank of England plans to assess the risks and stress-test the banks, to make sure any dangers can be contained.