Daily Mail owner DMGT's shares plunge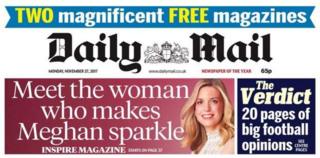 Shares in Daily Mail publisher DMGT have sunk 22% to hit a near five-year low, after it warned of a tough year ahead.
It came after full-year profit at the firm, which also publishes the Metro free paper, dropped 13% to £226m.
DMGT said it may be "adversely affected by recent disposals and challenging conditions" in some sectors next year.
They also warned that advertising market conditions were "likely to remain volatile".
Its financial results revealed it had also written down the value of three business – energy information business Genscape, and US property information firms Xceligent and SiteCompli – by a total of £206m.
Chief executive Paul Zwillenberg said DMGT had delivered a "resilient underlying performance during the year".
In its earnings statement the firm also said the board was "confident that in the medium term [our strategy] will result in DMGT being well-positioned to generate sustainable earnings growth".
The company also said that website MailOnline had continued to grow its revenue strongly, "moving into operating profit during the final quarter".
It is also expected that MailOnline will be profitable for the full 2018 financial year.
DMGT added that digital advertising revenues were expected to grow further, helping to offset expected falls in circulation volume and print advertising.