Dow Jones stock index falls by 500 points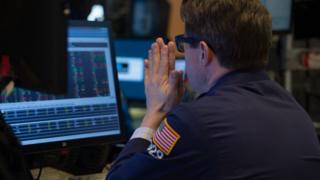 The Dow Jones Industrial Average has fallen by 500 points in a day of volatile trading that has rattled global markets.
The leading US stock market is down 1.99% or 427.58 points to 25,012.47.
It was closely followed by the wider S&P 500 stock index and the technology-heavy Nasdaq.
The falls extend losses on Friday, when strong wage growth data raised the prospect of accelerated interest rate rises.
London's main share index, the FTSE 100, closed down 1.46% while earlier, the biggest markets in Asia fell between 1% and 2.5%.
The decline followed months of market increases, which had fuelled concerns that share prices were over valued.
David Madden, market analyst at CMC Markets, said: "Equity traders were enjoying a bullish run recently, and the jolt from the major decline in the US last Friday has triggered a worldwide round of profit taking."
US shares suffer sharpest drop since 2016
The Dow Jones rose more than 25% in 2017 – a year which was also unusual for its lack of sharp moves.
"There is going to be more volatility this year, " Andrew Wilson chief executive of Goldman Sachs Asset Management, told the BBC.
"We are in a cycle where central banks are reducing the amount of bonds they are buying and some central banks putting up interest rates," he said.
On Friday there was a hefty 4% loss for shares in Apple, which had been one of the markets' star performers in recent years.
That selling came despite a solid trading update from the company.