ECB keeps eurozone stimulus policy unchanged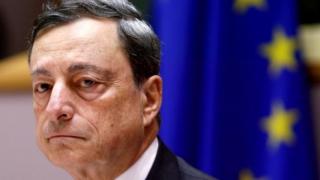 The European Central Bank (ECB) has kept eurozone interest rates and its bond buying stimulus programme unchanged following its latest meeting.
Attention now switches to ECB president Mario Draghi's news conference later, amid speculation he might hint at future policy changes.
The ECB is currently buying 60bn euros of bonds a month as part of its quantitative easing (QE) programme.
But analysts expect this to be scaled back given the eurozone's recovery.
Figures released earlier on Thursday confirmed that the eurozone's economy grew by 0.6% in the three months to June, following growth of 0.5% in the first quarter of the year.
Winding down QE
However, despite the pick up in growth, inflation within the eurozone remains slower than the ECB's target of close to, but below, 2%. Inflation in the 19-nation bloc was 1.5% in August.
Has eurozone stimulus done its job?
Draghi defends huge stimulus policies
Analysts say this is making the decision on when the bank begins to rein in QE more complicated.
"We think the central bank is trying to send the message that the degree of stimulus will be dialled down as the economy improves, but not removed altogether," said Claus Vistesen, chief eurozone economist at Pantheon Macroeconomics.
Interest rates were left unchanged in a range from 0.25% down to -0.40%.
The ECB said it still expects the rates to "remain at their present levels for an extended period of time".