Electric black cabs hit London roads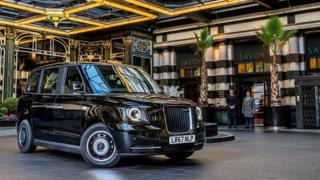 All-electric black taxis have hit London's roads for the first time after being certified to take passengers.
The launch comes weeks ahead of rules requiring new cabs in the capital to be capable of emitting zero emissions.
More than 9,000 such taxis, roughly half the current black cab fleet, are expected on London's roads by 2021.
The taxi's £55,599 cost means cabbies will have to pay an extra £300 a year in car tax, which critics say will remove the incentive to "go green."
But Chris Gubbey, the company's chief executive, insisted that the new cab "will play a major role in helping to improve air quality benefiting all Londoners."
The new TX can travel 80 miles on a single battery charge and 370 miles on its 1.5 litre petrol engine.
The vehicle's filtration system also removes harmful gases from incoming air.
The cab, made by the London Electric Vehicle Company (LEVC), has six seats, contactless card machines, Wifi and USB charging.
LEVC says it will save drivers on average £100 in fuel a week.
Electric charging points
Concern has also been raised about the small number of electric charging points in place throughout the capital.
An £18m scheme to install 75 rapid charging stations by the end of this year – which can load vehicles in 30 minutes – is reportedly behind schedule.
"The whole thing is just a farce, you couldn't make it up," says Steve McNamara, General Secretary of the Licensed Taxi Drivers Association.
He added: "We're constantly being told about technology and innovation, but they can't even put a few chargers on the street so what chance have we got?"
Mayor Sadiq Khan said the rate of delivery for electric charging stations is expected "to rise dramatically, with over 130 locations currently being worked on."