EU and six other countries exempted from US metals tariffs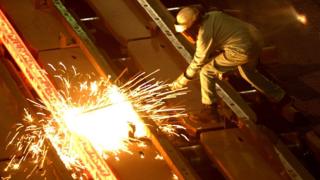 A senior US official has said that the European Union (EU) and six other countries will be exempt from steel and aluminium tariffs announced by President Trump, at least temporarily.
Trade Representative Robert Lighthizer told a Senate panel that Mr Trump had decided to "pause" the import duties while further discussions took place.
The tariffs of 25% on steel and 10% on aluminium are due to come into effect on Friday.
The EU had argued it should be exempt.
Aside from the EU Mr Lighthizer said Argentina, Australia, Brazil, Canada, Mexico and South Korea would be exempted.
"The idea that the president has is that, based on a certain set of criteria, that some countries should get out," he told the Senate committee hearing.
"There are countries with whom we're negotiating and the question becomes the obvious one that you think, as a matter of business, how does this work?
"So what he has decided to do is to pause the imposition of the tariffs with respect to those countries."
Earlier this month, the EU's trade commissioner said the bloc would "stand up to the bullies" over protectionism.
Cecilia Malmström said protectionism was being "used as a weapon to threaten and intimidate us".