Hamley's reports toughest year since 1760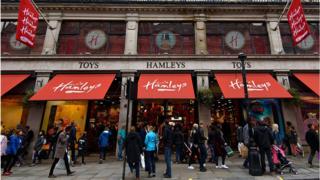 Profits at toy store Hamley's plunged more than 600% with the the firm blaming factors such as Brexit and the threat of terrorism for the drop.
The firm made a £9.2m loss for the year to 31 December, having made a £1.7m profit the previous year.
Hamley's, the world's oldest and largest toy shop, said it closed some stores and left certain markets "with little prospect of growth or scale."
It added that it had the backing of its Chinese owner, C.Banner.
"In the UK, 2017 was one of the most challenging years in UK retail history, and Hamley's was not immune to the impact of Brexit uncertainty, terrorist attacks, macroeconomic pressures and a general erosion in UK consumer confidence," the firm said in accounts filed at Companies House.
It said the retail environment in 2017 was "difficult", with higher costs, rents and rates, and adverse foreign exchange rates.
Hamley's said there had been "softening" consumer confidence and the threat of terrorism had resulted in reduced the number of shop visitors.
It opened four stores in the UK, but closed two.
The firm added that the UK retail outlook "remains challenging in 2018" as spending continues to be hit by "unprecedented consumer uncertainty".