Meat traces 'found in supermarket vegetarian meals'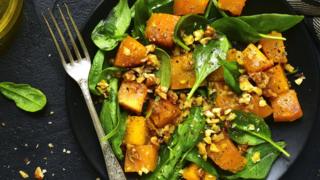 The Food Standards Agency (FSA) has begun an investigation following claims that traces of meat were found in food classified as vegan or vegetarian.
The Daily Telegraph tested 10 vegan and vegetarian products at Tesco and Sainsbury's and found meat in two.
Both supermarkets are investigating the claims, but added that preliminary DNA analysis on the products in question had not raised any issues.
The FSA said their priority was to ensure customer confidence.
"Our priority is to ensure consumers can be confident that the food they eat is safe and is what it says it is," an FSA spokeswoman said.
According to the Telegraph's investigation, a German government-accredited food testing laboratory found traces of pork in Sainsbury's own brand Meat Free Meatballs, and traces of turkey in Tesco's Wicked Kitchen BBQ Butternut Mac.
Sainsbury's said the meatball product, which carries the widely-respected Vegetarian Society logo, is produced at a meat-free factory.
A statement stressed that Sainsbury's and the Vegetarian Society carried out regular checks and no issues had been found.
"We are concerned by these findings however, and are carrying out a comprehensive investigation alongside our supplier."
A Tesco spokesperson urged the Telegraph to share full details of its testing.
"We take the quality and integrity of our products extremely seriously and understand that our vegan and vegetarian products should be exactly that.
"Our initial DNA tests have found no traces of animal DNA in the BBQ Butternut Mac product available in stores today."
'Wider issue'
The presence of whole-animal DNA suggests the presence of meat or animal skin in the product, though it could also be traced back to gelatine or oil.
Tony Lewis, head of policy at the Chartered Institute of Environmental Health, told the Telegraph that consumers who had eaten the specified products would be "appalled".
"If you're starting to find stuff in food that shouldn't be there, the question is what else is in there?"
"This is potentially a much wider issue."
Supermarkets continue to expand their range of meat-free products as the trend towards vegetarian food continues to rise. Veganism is believed to have grown four-fold over the past decade, according to the Vegan Society.
In addition, there are many who do not eat meat for religious or ethical reasons. The Muslim Council of Britain called the findings "distressing".
The FSA said they were "investigating the circumstances surrounding these alleged incidents and any resulting action will depend upon the evidence found".