Sluggish UK data lowers chances of rate rise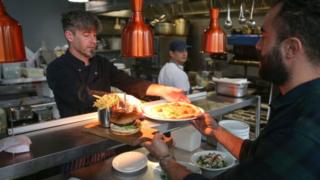 "Disappointing" data on the UK service sector appears to have cut the chances of an interest rate increase next week.
The IHS Markit/CIPS services purchasing managers' index rose to 52.8 in April, but was not as strong as expected.
Last month, official figures showed the UK economy grew 0.1% in the first quarter – the slowest rate since 2012.
Given recent weak economic data, analysts say it is unlikely the Bank of England will raise interest rates at its policy meeting next week.
"The disappointing services data will add to expectations that the MPC (Monetary Policy Committee) will take its finger firmly off the rate hike trigger," said Chris Williamson, chief business economist at IHS Markit.
"Any further slowing will also raise questions as to whether the November rate hike may have been ill-timed."
April's purchasing managers' index of 52.8 was an increase from the March figure of 51.7. Any result above 50 indicates that the sector is expanding.
However, activity in March was curbed by bad weather and economists were expecting a stronger rebound in April.
"Following today's data, nobody can have strong conviction that the economy's Q1 (first quarter) slowdown will be just a blip," said Samuel Tombs, chief UK economist at Pantheon Macroeconomics.
Weak growth and inflation figures released last month had already made a rise in interest rates in May unlikely.
But the latest figures could make the MPC even more cautious over future rate increases, according to Mr Tombs.
The diminished prospect of an interest rate increase has driven the pound lower, which in mid-April was trading well above $1.43. Following the release of the latest data it edged lower again to trade below $1.36.
On Tuesday, a related survey from IHS Markit/CIPS suggested the manufacturing sector could be slowing down.
The manufacturing purchasing managers' index fell to 53.9 in April, down from 54.9 in March.
However, on Wednesday there was a sign that the construction sector rebounded in April after weather-related disruption in March.
The IHS Markit/CIPS construction purchasing managers' index rose to 52.5 in April, from 47.0 in March which was a 20-month low.