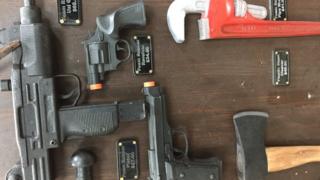 The hero jumps through a glass window and escapes unscathed. A man smashes a beer bottle over the head of his nemesis. A woman hurls a glass vase at her paramour.
From The Wizard of Oz to the Wolf of Wall Street, smashing glass is a fixture of most Hollywood movies and TV shows.
And it's entrepreneurs with secret recipes that create the "breakaway" prop glass bottles and windows, which are brittle enough to shatter but safe enough to prevent lacerations to actors and stunt people.
In the past, movie glass props were prohibitively expensive for low budget projects.
But entrepreneur Ryan Johnson has created an affordable line of props to smash for theatres, film and television – and increasingly for YouTubers.
"We opened up a new market for ourselves especially in the smaller regional theatres and school theatres," says Mr Johnson, who is the president of the props and special effects company, NewRuleFX.
"Now they have props at a price point they can afford."
Mr Johnson says the "workhorse" of the breakaway industry is the standard brown beer bottle. He then allowed me to tick off a bucket list item and smash the bottle over his head. It shattered just like the real thing.
He flinched a bit but said it didn't hurt.
His firm makes the bottles seven days a week. Behind his showroom on a Sunday afternoon, one of his employees worked in "the top secret room" melting plastic resins and remoulding them into beer bottles.
NewRuleFX.com also makes foam frying pans, hammers and guns, and sells replica weapons and costumes to fans of Game of Thrones. It also makes electronic cigarettes without nicotine, which are increasingly popular with actors.
But the $13 (£10) beer bottle is the best seller.
"It's a very easy-to-use prop because it's kind of universal both in style and also time period. It hasn't changed much over the years. So you can buy our brown beer bottle and use it even for an older Western show."
Mr Johnson comes from a production background and still works occasionally on set. He started his props and special effects business in 2010, after the US recession and a writers' strike in Hollywood devastated the entertainment industry.
"My main business was doing TV commercial and infomercials," Mr Johnson says.
"When the recession hit a lot of the people that advertise on TV just said 'we're pulling back this year – we're not going to advertise on TV anymore'. And very quickly I realised I've got to do something else."
That something else was something he'd been tinkering with in his garage. During the writers' strike he mastered the recipe for his glass and created a website to market his creations.
Since then his small business has grown "10-15% per year" and he now employs seven people.
Despite losing some film and TV productions to other US states and countries with better tax breaks, Hollywood remains the beating heart of the global entertainment industry.
California's entertainment industry is the largest in the US. According to the Motion Picture Association of America (MPAA), the industry employed more than 198,000 people in the state in 2016.
The entertainment industry pays out $43bn a year to more than 300,000 businesses across the US – 85% of which are small businesses that employ fewer than 10 people, the association adds.
California's improved tax credits have also lured some productions back to the state.
Leron Gubler, the president and chief executive of the Hollywood Chamber of Commerce, says the majority of its members are small businesses that profit in some way from the entertainment industry.
Mr Gubler says the industry has changed over the last 25 years because studios do less in-house than they used to – which creates more opportunities for small businesses to work on studio productions.
"So much has changed," Mr Gubler says, noting how companies such as Netflix, Google and Amazon have created multiple new outlets for filmmakers through their streaming services.
"All these new platforms and tax cuts; there's so much opportunity for our members now," he says.
The secret to the success of his props business has been catering to every customer, he says.
Many of his competitors, he adds, don't want to bother selling a few props to kids making YouTube videos.
"I may spend 30 minutes on the phone talking them through the process and then they'll order from us, and say 'this is really cool'," he says.
"And then who knows, they may come back, and their career keeps growing, and eventually they become an art director on a Netflix show and they remain a loyal customer."
Sticking to this strategy has been integral to his success, he says.
"Treating every customer as if they were the biggest Hollywood show – we try very hard to do that."