Tata Steel Thyssenkrupp merger: Safeguard Welsh jobs call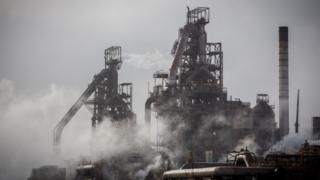 Unions and politicians are calling for Tata Steel and Thyssenkrupp to safeguard Welsh jobs when they go ahead with their planned merger.
The Indian and German companies have signed a memorandum of understanding to combine their European steel operations in a 50-50 venture.
It will lead to about 4,000 job losses.
Almost 7,000 people are employed by Tata in Wales, including more than 4,000 in Port Talbot – the largest steel works in the UK.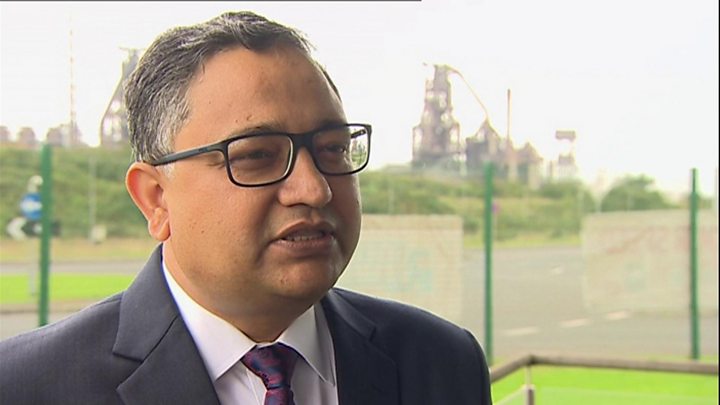 The two companies had been in negotiations since last year when Tata withdrew from a sales process to sell its entire UK operations.
It was confirmed on Wednesday that the flat steel businesses of the two companies in Europe and the steel mill services of the Thyssenkrupp group will merge under the deal and will be named Thyssenkrupp Tata Steel.
But the two partners expect the move will lead to about 4,000 jobs going, half from administration and half from production.
The Community union said it would be seeking assurances for workers.
Roy Rickhuss, general secretary, said: "While a merger of this size will inevitably mean a review of support functions such as HR and IT, the vast majority of these roles are no longer located in the UK.
"We have been assured there will be no asset closures or reductions in production capacities across the UK.
"If the company does seek to implement compulsory redundancies we will fight that using every necessary means."
Aberavon MP Stephen Kinnock cautiously welcomed news of the deal, saying: "It's very good to see the clear long-term commitment to Port Talbot."
But he added: "Tata Steel committed to investing £1bn, to maintaining the blast furnaces, and to averting compulsory early redundancies.
"Those commitments must be honoured, and I will be seeking assurances from the company that they are in no way affected by today's news."
Analysis: Brian Meechan, BBC Wales business correspondent
Tata has always been a complex story with lots of changing elements.
In the short term, this at least provides certainty for workers that Tata's plan for a merger is moving ahead.
Unions want assurances that Tata will invest in Port Talbot including a refit of one of the blast furnaces.
They are not expecting major jobs losses in the UK as part of the deal but say they will fight any compulsory redundancies if they do arise.
Tata had previously committed to investing £1bn in Port Talbot over 10 years depending on market conditions, trying to avoid compulsory redundancies and keeping the two blast furnaces operating for five years.
Those pledges were made to secure support from workers to implement a less generous pension scheme.
The concern remains over the long-term commitment of Thyssenkrupp Tata to Port Talbot and jobs there.
The drop in the value of the pound and the rise in steel prices currently benefits Port Talbot as does the greater efficiency it has introduced in production.
But steel prices are volatile, the world is still producing far more of it than is needed and the value of the pound could rise again.
South Wales West AM, Suzy Davies, said it was vital the Welsh Government "keeps its promise to support staff affected by the changes".
"Care must also be taken to ensure that any restructuring does not undermine the future viability of operations here in Wales," she added.
Councillor Alun Llywelyn, who represents Ystalyfera in Neath Port Talbot, said the deal was a "step forward" but added: "We need a lot more information about their business plan."
Who are Thyssenkrupp?
Krupp's roots are in Germany more than 200 years ago and Thyssen was formed in the 1870s. The two steel companies merged in 1999
The group employs 155,000 people in 80 countries across the world
The European steel division has 27,000 workers, producing 13 million tonnes of crude steel a year
There has been speculation about a merger with Tata Steel since July 2016
Andrew Robb, chairman of Tata Steel Europe, said the announcement marked the latest step in "building a future for Tata Steel's activities in Europe which is sustainable in every sense".
Business Secretary Greg Clark said the companies shared an ambition for Port Talbot "as a world-class steel manufacturer, with a focus on quality, technology and innovation".
Tata's £15bn pension scheme had been a major sticking point in the merger negotiations.
But an agreement with Tata workers and the support of the pensions regulators meant the company had distanced itself to a large extent from its pensions liabilities.