Tata 'to invest £75m in Port Talbot blast furnace repair'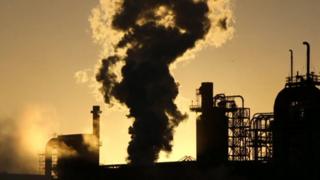 Tata Steel will invest £75m to repair a blast furnace at Port Talbot steelworks, industry sources have claimed.
The move would extend its life by seven years and ease concerns about Tata's commitment to Europe's steel sector, sources told Reuters news agency.
It comes after the firm signed a preliminary deal to merge its European steel assets with German rival ThyssenKrupp.
Tata Steel has declined to comment.
Blast furnace five had been due to end its life in 2018-19 and unions have long called for it to be fully relined as a sign of long-term commitment to the plant.
With earnings at Port Talbot running at a fraction of those at Tata and ThyssenKrupp's European assets, and with Brexit posing extra risks, the plant has been seen as particularly vulnerable in the event of a downturn.
But four industry sources told Reuters those concerns were receding now Tata was looking to repair blast furnace five and after a top level management change at its Indian parent firm last year.
"We are nowhere near where we were two years ago," one industry source said, referring to the steel sector crisis of 2015 which saw Tata attempt to sell its UK assets, including the Port Talbot plant, which at one point was losing £1m a day.
Following that crisis Tata signed a deal with British unions in late 2016, in which it committed to no forced redundancies at Port Talbot and to keeping two blast furnace operations at the plant until 2021.
The latest news follows a £14m investment at the plant's hot strip mill to increase capacity by 150,000 tonnes a year and an earlier £30m plan to replace a steelmaking vessel to produce steel for electric and hybrid cars and the building industry.
Union Community, which represents workers at Port Talbot, said it would continue to push for a full reline of blast furnace five.