Westfield shopping centres bought in $25bn deal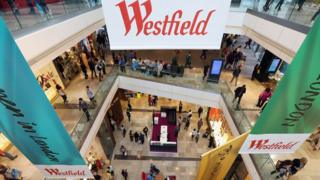 The owner of Westfield shopping centres is being bought for $24.7bn (£18.5bn) in a deal that will see the malls launched in new markets.
Australia's Westfield Corporation has agreed to be sold to French property group Unibail-Rodamco.
There are 35 Westfield shopping centres in the UK and the US, while Unibail-Rodamco has 71 sites in Europe.
Unibail-Rodamco said the takeover would result in a "progressive roll-out of the world famous Westfield brand".
The takeover is the second major deal involving shopping centre owners to emerge in just over a week.
On 6 December, Hammerson, which owns the Bullring in Birmingham, announced a £3.4bn bid for Intu, whose properties include the Arndale shopping centre in Manchester.
The deals come as owners of shopping centres face increasing competition from the shift to shopping online.
Sir Frank Lowy, the billionaire property tycoon who co-founded Westfield in the 1950s, will retire as chairman of Westfield. His sons Peter and Steven will also step down as co-chief executives of the business.
Speaking at a news conference in Sydney, Westfield chairman Sir Frank Lowy, the billionaire property tycoon who co-founded Westfield in the 1950s said the sale to Unibail-Rodamco would create "the leading shopping centre company in the world".
"It will have the highest quality assets in the best markets across Europe, the United Kingdom and United States. For the assets I've spent my life building I could not imagine a better home for them than in this new company."
Sir Frank will retire as chairman of Westfield following the sale. He is one of the richest people in Australia with a fortune of $5.9bn, according to Forbes magazine, and was knighted by the Queen last week.
Christophe Cuvillier, chief executive of Unibail-Rodamco, said the acquisition of Westfield "adds a number of new attractive retail markets in London and the wealthiest catchment areas in the United States".
He added that the deal would allow it to cut advertising and marketing costs. At the moment, Unibail shopping centres advertise individually under different brands for big events, such Christmas.
It intends to roll-out the recognisable Westfield brand across its flagship shopping centres in areas such as Paris, Barcelona, Vienna and Warsaw.
Unibail and Westfield said they would make €100m (£88.2m) in savings a year following the tie-up.
The group is expected to sell €3bn (£2.65bn) worth of assets over the next few years, which will involving shedding some of its smaller shopping centres.