Wholesaler Palmer and Harvey fails with 2,500 jobs lost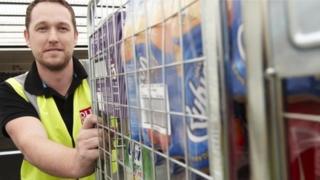 Major UK wholesaler Palmer and Harvey (P&H) has gone into administration following failed rescue talks.
Administrators at PwC have said 2,500 jobs will be lost with immediate effect.
The firm had been in takeover talks with private equity firm Carlyle, but these fell through.
P&H, which is the UK's largest tobacco supplier, had been struggling with debts and owed substantial sums to key suppliers.
It is the UK's fifth biggest privately-owned firm, and delivers more than 12,000 products, including food and alcohol.
It supplies about 90,000 outlets around the UK including major chains, convenience stores, corner shops and petrol station forecourts.
PwC said the group had been "hit by challenging trading conditions in recent months and efforts to restructure the business have been unsuccessful.
"This has resulted in cash flow pressures and it has not been possible to secure additional funding to support the business."
Fierce competition
P&H Group employs about 3,400 employees and PwC said it had "unfortunately been necessary to make about 2,500 immediate redundancies at head office and the branch network".
The remaining employees would "assist the joint administrators in managing the activities of the business to an orderly closure".
One P&H customer, Costcutter Supermarkets, said it was was searching for other suppliers.
"We have activated our contingency plans to provide alternative sources of supply through appropriate regional and national options," a Costcutter spokesman said.
The collapse of P&H comes amid a string of mergers in the retail industry.
A shift in shopping habits, fierce competition from the likes of Aldi and Lidl, and the arrival of Amazon has prompted retailers to look to bolster their businesses by buying food wholesalers.
Earlier this month Tesco's £3.7bn takeover of food wholesaler Booker got the go-ahead from the competition authorities.
Rival Nisa has been taken over by the Co-op.