Child abuse inquiry: School 'reputations put before abuse victims'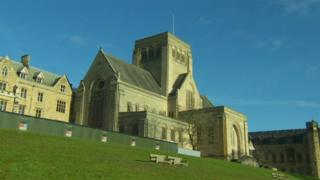 Two leading Roman Catholic schools "prioritised monks and their own reputations over the protection of children", a report says.
"Appalling" abuse was inflicted on pupils at Ampleforth in North Yorkshire and Downside in Somerset over 40 years, the Independent Inquiry into Child Sexual Abuse (IICSA) said.
But, the report said both institutions attempted to cover up the allegations.
Ten individuals, including monks, have been convicted or cautioned for abuse.
The report, based on evidence heard by the IICSA's investigation of the Roman Catholic Church and the English Benedictine Congregation, said, however, the true extent of the abuse is "likely to be considerably higher" than the number of convictions.
It states many of the perpetrators did not hide their sexual interests from the children and pupils were often abused in front of each other.
"The blatant openness of the activities demonstrates there was a culture of acceptance of abusive behaviour," it said.
The scale and nature of the abuse inflicted is contained in the full report published on Thursday. (WARNING: contains distressing detail).
Professor Alexis Jay, Chair of the Inquiry, said: "For decades Ampleforth and Downside tried to avoid giving any information about child sexual abuse to police and social services.
"Instead, monks in both institutions were very often secretive, evasive and suspicious of anyone outside the English Benedictine Congregation.
"Safeguarding children was less important than the reputation of the Church and the wellbeing of the abusive monks."
She said the institutions continued to try to manage internally allegations of abuse despite recommendations in the 2001 Nolan Report they should be referred to statutory authorities.
"Even after new procedures were introduced in 2001, when monks gave the appearance of co-operation and trust, their approach could be summarised as a 'tell them nothing' attitude."
Perpetrators from the two schools who were convicted include Ampleforth teachers David Lowe and Piers Grant-Ferris and former Downside geography teacher Nicholas White.
Lowe, who also taught at Westminster Cathedral Choir School, was convicted of assaulting boys aged from eight to 13 between 1978 and 1984.
He was jailed in 2015 for ten years.
The inquiry heard that when abuse committed by White came to light he was moved from the junior school to the senior school where he was given the role of housemaster to his first victim.
The report said: "The abuse of a second victim could have been prevented if the abbot and the head master had referred the first abuse to the police and social services."
White was jailed in 2012 for five years.