Cuts put deaf children's education at 'breaking point'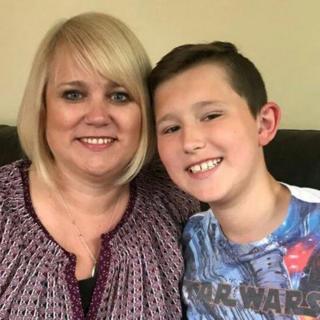 Tom Bishop is 11 and deaf. The specialist teacher he had was a "life-line", say his family.
But two years ago her post was cut, leaving his family "lost and worried," about their son's future
His mother Emma described impact of the cut as "appalling".
Thomas's story is not unusual, says The National Deaf Children's Society, with one in 10 teachers of the deaf having their jobs axed in the past four years.
And figures obtained by the charity under Freedom of Information laws suggests the cuts are about to get worse.
One in three councils in England are planning to cut deaf children's support services this year saving £4bn.
'Not having teacher of the deaf inconceivable'
Profoundly deaf Maisie Sly heads to Oscars
What is it like to be deaf in a hearing school?
Jim Fitzpatrick MP, chairman of the All Party Parliamentary Group on Deafness, said the figures should "shame us all".
"The incredible potential of deaf children is being extinguished because the system that supports them is being completely undermined."
Of 155 local authorities sent questionnaires, 122 responded and, of these, 45 are cutting specialist education support services for deaf and hearing impaired children this financial year, compared to last year.
The charity says the cuts amount to each council losing about 10% from these services, on average, leaving support for deaf children near "breaking point".
It adds that analysis of official figures suggests that deaf children's GCSE results are already in decline since the cuts began to bite.
'Fragmented'
Thomas's family describe how they have been left to seek advice and guidance for themselves.
Emma describes finding a suitable secondary school near their home in Walsall as "a nightmare".
She says the specialist teacher he used to have would visit Thomas once a term to assess his needs and give advice and information his school, family and doctors.
"The teacher of the deaf was amazing, and it gave you a level of confidence because she would go and assess Thomas then she would ring me up, give me lots of feedback," says Emma.
"You would feel confident when you went to see the consultant, it was a multi-agency approach to Thomas's support.
"It was coming from the teacher, to the teacher of the deaf, to the consultant to the audiologist.
"But that's all gone, it's very fragmented."
'Record budget'
NCDS chief executive Susan Daniels urged the government to step in urgently, accusing ministers of "woeful complacency".
"By not acting, this government is putting the education of too many deaf children at risk, and letting their futures hang in the balance.
"Deaf children can achieve anything other children can, but to do this it is crucial they get the right support."
However, the children's minister Nadhim Zahawi, pointed out that the budget for pupils with special educational needs is at its highest on record at £6bn.
"On top of this, last week we announced new contracts worth more than £25m to help children with special educational needs and disabilities, including those who are deaf or have a hearing impairment," said Mr Zahawi.
The Local Government Association which represents councils in England called for additional and on-going funding from central government to help support high-needs children.
Richard Watts, chairman of the LGA's Children and Young People board said councils took their responsibilities towards these children "extremely seriously".
"This is why we are calling for an urgent review of funding to meet the unprecedented rise in demand for support from children with special educational needs and disabilities."