'Little student support' for varying tuition fees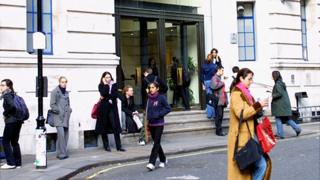 More than 60% of students would not back varying price tags for different degree courses, a survey suggests.
Many of the 1,019 students questioned also opposed lower fees for those from poorer backgrounds.
The findings are in a report by the Higher Education Policy Institute which argues that the benefits of varying fees by degree are "largely illusory".
They come days after the prime minister launched a review of tuition fees and university funding.
Overall, 63% of those polled for the study thought that full-time courses should have the same fees.
Meanwhile one in three disagreed with that.
But when pushed to give a preference, if differential fees were introduced, 57% would be in favour of higher fees for courses that cost more to teach.
Lower fees?
These are lab-based courses with costly equipment and overheads.
Some 17% backed higher fees for courses that lead to higher wages, and 7% for courses at more famous universities.
About half (52%) agreed that higher fees might be justified for medicine.
Some 39% backed lower fees for arts subjects such as English or history, but only 9% thought lower fees could be justified for law and only 8% for physics.
However, 59% of students opposed lower fees for poorer students, with 38% in favour.
When tuition fees were trebled in 2012, ministers argued that fees would vary creating a market, but this did not happen and almost all full-time degree courses in England are £9,250.
Education Secretary Damian Hinds has called for more variety in tuition fees.
'Illusory'
Ahead of the launch by Theresa May of a year-long review of post-18 education this week, Mr Hinds also indicated that fees should reflect the value and benefits of a degree.
HEPI director Nick Hillman said: "The supporters of differential fees are deeply split on who should pay less and who should pay more, while most students reject the whole idea.
"At first glance, differential fees appear to have some advantages. It seems they could help poorer students, send signals about the value of different courses or help satisfy labour market needs.
"But, on closer inspection, these benefits prove to be largely illusory."
The report says fees could vary depending on the student, or there could be a free-for-all with no cap.
Some have suggested lower fees for Stem (science, technology, engineering and maths) courses, because the country could benefit if more people studied these subjects, the study says.
But the report warns that the case for this is "far from watertight", noting there is already extra taxpayer support for higher cost subjects, such as many Stem areas, and that it could be argued that many Stem graduates end up on relatively high salaries.