Pregnant modern slaves face 'shocking' danger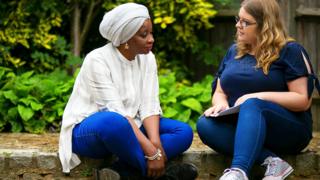 A quarter of women rescued from modern slavery in the UK are pregnant and facing "shocking" levels of danger and deprivation, says a charity.
Hestia, which runs safe houses, says pregnant women can escape or be abandoned by traffickers and left to sleep rough without any healthcare.
"Many contemplate suicide. All are isolated and long for contact with their mothers," says the study.
The charity says "urgent action" is needed to help such vulnerable women.
Hestia, one of the UK's biggest providers of support for victims of slavery, says there is insufficient help for the security, health and psychological needs of trafficked and often traumatised women who are pregnant or have recently given birth.
The charity, which last year worked with almost 900 adults, is to publish a report highlighting the "harrowing" risks facing enslaved pregnant women who have been living in "constant fear".
The report says that a "disproportionately high number of women who have been victims of modern slavery present into our service pregnant, often very late in their pregnancy".
These women, who could be held as sex workers or in domestic servitude, have often had no access to healthcare.
The report says some of the pregnancies were the result of rape, and women's health can be seriously damaged by being "forced to consume alcohol or take drugs whilst they were being exploited".
Becoming pregnant could have been the trigger to end their servitude – either because they wanted to protect their child or because they have lost their value to their captors.
A spokeswoman for the charity said that families keeping women in domestic servitude might not want to support a mother and baby.
In one case, a woman was driven to a park and abandoned there, until she was helped by local people who found her.
Women have often been trafficked through different countries and can be completely disorientated about their location, says the charity.
---
"Issy's" story
"When Issy became pregnant, she tried to conceal it from her captors.
"When they found out, she was forcibly taken to an abortion clinic. Issy was desperate to let one of the health professionals know she did not want to go through with the abortion, but she did not speak their language and was terrified of the consequences if she was seen attracting attention.
"However, the clinic refused to perform the abortion without a medical certificate as Issy was in the second trimester of her pregnancy (13th to 27th week of pregnancy).
"Issy was returned to the flat where she was being kept and was ordered to continue having sex with her clients until they no longer wanted her.
"She overheard her captors say that they would wait until Issy's baby was born and then they would take it from her so she could continue working.
"Issy knew she had to escape. She chose a moment when her captors were distracted and ran out of the house. An older woman saw Issy visibly distressed and took her to a police station."
Issy is a real person, but her name has been changed.
---
Women who have been tricked by promises of work, or brought illegally into the UK, might have no documents or have anyone they can ask for help.
Among such pregnant women who had left slavery, 16% became rough sleepers, others relied for food and clothes on foodbanks and charities.
The report says the way that women had been mistreated raises "questions about the human capacity for evil".
But it also says that the women's stories show "great kindness on the part of strangers".
There were "everyday citizens" who had to helped to rescue women, by calling the police or intervening when they were in hospital or even "providing a distraction for traffickers".
---
Who are modern slaves?
The most common countries of origin for women rescued by the charity are Albania, Nigeria, Vietnam and the Philippines. Albania and Nigeria together accounted for almost 60% of the victims.
Among trafficked women helped by the charity, almost 70% had been brought to the UK for "sexual exploitation", including prostitution, strip clubs and pornography.
"Domestic servitude", where women were held as domestic workers, accounted for 25% of women rescued.
A further 6% were involved in "forced labour", such as working in nail bars.
The National Crime Agency says the most frequent agencies involved in finding modern slavery victims are the police, voluntary groups (particularly the Salvation Army) and local authorities.
There were referrals from over 60 different local authorities.
National Crime Agency figures show "sexual exploitation" as biggest form of modern slavery for women, while for men "labour exploitation" is the most frequent.
---
A spokeswoman for the charity says there needs to be greater recognition of the needs of pregnant women – such as appropriate accommodation and access to health care and support for mental health problems.
But there is also another emotional gap in the "lack of family" when women are feeling most isolated and anxious.
"It's heartbreaking. You need your mum more than ever at that point," she says.