Bodyguard: The critics' verdicts on BBC show's finale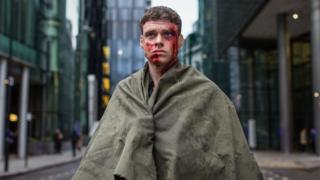 Hit BBC drama Bodyguard kept millions of viewers on tenterhooks as the series drew to a close on Sunday evening.
Without giving anything away, it's fair to say it served up a helping of shock and suspense.
Star Richard Madden – who played the show's ex-soldier-turned-protection-officer – David Budd retweeted a thank you from the BBC to everyone who was watching the "epic finale".
The show's director John Strickland had whipped up fans ahead of the broadcast by tweeting lyrics from Frank Sinatra's My Way.
He posted: "For what is a man, what has he got? If not himself, then he has naught. To say the things he truly feels and not the words of one who kneels.
"The record shows he took the blows and did it his way."
More than 10 million people had watched the opening episode, whether live or via iPlayer, and the finale was expected to draw a huge audience.
But what did the critics make of it all?
Sara Wallis, Daily Mirror
"If the nation's heart rate could have been monitored during the mind-blowing finale of BBC1's Bodyguard, it would have been off the scale."
Andy Halls, The Sun
"There were moments last night where, for a good 30 seconds or so, I genuinely held my breath… Don't get me wrong, there were moments of genuinely ludicrous action… But is it the best new drama we've had in years and the best thing on TV in 2018? Yes, ma'am."
Jan Moir, Daily Mail
"There is a fine line between great drama and absurdity, and there were moments when Bodyguard and its bloodied Caped Crusader nearly fell into total farce. Yet it never did. The tense scenes managed to be both gripping and touching."
Bryony Gordon, Daily Telegraph
"Watching the final episode unfold felt a bit like witnessing a grade-A student open up their envelope on exam results day to find a string of Bs. It had tried too hard to impress, and ended up collapsing under the weight of its own expectations."
Carol Midgley, The Times
"Hallelujah for that last cracking 10 minutes of Bodyguard. Because up until then – sorry – I was finding this climax a touch underwhelming. There were many plot holes here but this was event TV and Mercurio, skilled at wrongfooting his viewers, gave us two final twists."
Lucy Mangan, The Guardian
"It has all been a retro-rush. Weekly episodes parcelled out like old times. Cliffhangers you talked about next day by the new watercooler, Twitter."
Mike Ward, Daily Express
"Bear in mind the story still has several tantalising loose ends… Not wishing to put pressure on Mercurio, but series two can't come quickly enough."