Coronation Street male rape scene: Helplines see spike in calls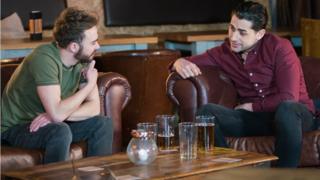 A Manchester charity that worked with Coronation Street on its first male rape storyline said it has had a huge spike in calls since the show aired.
The scenes broadcast on Friday saw the ITV soap's newcomer Josh Tucker drug and sexually assault David Platt.
Manchester Survivors said calls had more than doubled while national charity Male Survivor reported a 1700% increase in calls.
"Phenomenal" handling of the issue had helped survivors speak out, it said.
Duncan Craig, founder and chairman of Manchester Survivors, said the characters' portrayal of the issue had helped silent survivors to speak out and "to know there is hope and there is healing after such an abhorrent crime".
He said he was asked to help with the storyline by executive producer Kate Oakes and was involved from the start – in script-writing, filming scenes and working with actors on the show.
Mr Craig, who has waived his right to anonymity, said he drew on his own personal experiences when advising Ryan Clayton, who plays Josh, and Jack P Shepherd, who plays David, and they had "absorbed every word I'd said".
He said he was "blown away" when he saw the final scenes.
"It was so real – and reminds me of my own behaviour. It reminded me of the massive effort to keep the secret."
He hit back at criticism the topic was "too dark" for the soap, with TV presenter Fern Britton tweeting it was "unsuitable for pre-watershed".
Fern Britton also tweeted: "I want fun and laughter, love and heart break."
Mr Craig said the storyline had helped men and boys watching at home speak out about male sexual abuse, demonstrated by the influx of calls to charities since Friday.
He said by Wednesday morning, Manchester Survivors received 13 referrals compared to roughly one a day last year.
He added: "Coronation Street has always tackled dark stories and I'd invite Fern Britton and [veteran broadcaster] Michael Parkinson, who has also criticised the storyline, to see the work we do."