Six sick stars who said the show must go on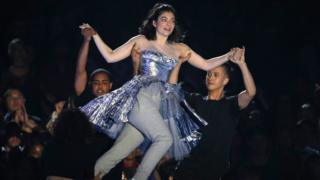 What do you do when you're booked to play at a show but you're sick and would rather be tucked up in bed?
Well, if you're Lorde, you turn up to the VMAs in a half-cocktail dress, half-sweat pants combo and perform an interpretive dance instead. Simple.
The New Zealander said she had to be hooked up to an IV drip, referring to herself as a "cute lil propped-up corpse".
Her flu explains why she wasn't singing, which is a shame given MTV said her rehearsal was "epic". But as Lorde tweeted, the #showgoeson.
Lorde was praised for showing up, comfy trainers and all.
The official VMA account tweeted a picture of the singer seeming to jump on the stage and the caption: "The ground is the flu trying to stop you glowing up at the #VMAs."
Fans were impressed on Twitter too, with one saying: "If Lorde can perform at the VMAs with the flu, I can definitely make it through this week in one piece."
She's not the first star to rock up to a gig when full of the lurgy. So who else has battled on regardless?
Justin Bieber
Fans got a bit more than they bargained for when Justin Bieber was sick on stage – twice – back in 2012.
He was performing in Arizona as part of the Believe tour when he vomited twice. He left the stage each time, but came back to finish the show and even did an encore.
Bieber later told fans he was "getting better" and that "milk was a bad choice".
The following year he had to take a 20-minute break mid-set due to breathing problems – but once again, he insisted on getting to the end of the performance. What a pro.
Rihanna
Perhaps Biebs could have shared stories with Rihanna about his experiences – as the same thing had happened to her while she was playing in Portugal.
She was at Lisbon's Atlantico Arena when she had to run off during What's My Name to be sick.
RiRi tweeted a fan at the time, saying she "made it juuuust in time for RudeBoy", with her dancers covering for her while she was ill.
Last year, she had to cancel her Grammys performance though under doctor's orders – she was suffering from bronchitis that time.
Este Haim
Haim bassist Este has type one diabetes – which means her body can't control blood sugar levels and that she needs to inject insulin.
But when she was playing on the Pyramid Stage at Glastonbury 2013, she realised her sugar levels were plummeting due to the fact she'd not eaten enough.
She came off stage and her manager checked her levels and rubbed chocolate inside her mouth to give her much-needed glucose. After two minutes, she got back on to perform the rest of the set with her sisters.
Este admitted she had to do it "sitting down like BB King" however – and that now she makes sure she's had her "fuel for the day".
Dave Grohl
When Dave Grohl fell off stage at a concert in Sweden two years ago, he broke his leg – an injury that led to the Foo Fighters cancelling their headline slot at Glastonbury that summer.
But get this. Even though he was in pain, and would eventually need six metal screws put in his leg, he finished the show at the Ullevi Stadium before being taken to hospital.
And then, a month after the accident, he took to the stage again.
Grohl sat on a throne decorated with guitars for a show in Washington DC to mark the 20th anniversary of the band's first album. He's seen on it above at a gig in Seoul later that month.
Marillion
Bit of a vintage one now. Marillion were appearing on Top of the Pops in 1985 – but the slight problem was that singer Fish had lost his voice.
So what do you do in that situation? Cancel? Nope.
Instead, Fish decided to take to the stage regardless – and hold up a flip chart with the lyrics to Lavender Blue on, ripping off the sheets as he went along.
Luckily, the audience was up for a sing-a-long.
---
Follow us on Facebook, on Twitter @BBCNewsEnts, or on Instagram at bbcnewsents. If you have a story suggestion email entertainment.news@bbc.co.uk.