The Mysteries: Six towns, six stories… one England?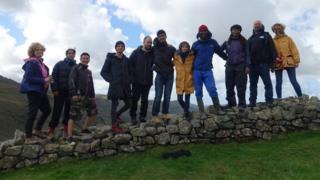 Bell ringers and sheep farmers, MPs and newspaper editors, people in pubs and cafes. Two theatre-makers talked to everyone they could in six villages, towns and cities to get inspiration for a series of plays that give snapshots of the state of the nation.
On their road trip, Chris Thorpe and Sam Pritchard tried to get under the skin of each place.
"In Whitby, one day, we went to a cafe around the corner from where we were staying and there were a couple of women at the next table who had a day off," Thorpe says.
"We just said, 'Do you mind if we sit with you for a bit?'"
Whitby was one of the six locations the pair visited, and have now shone a light on with their six plays. The others range from the rural Eskdale valley in Cumbria to Thorpe's home city of Manchester.
"When you say to people, 'We're here to find out about what this place is like', and you're clear that you're making a piece of theatre, people are really up for it," the writer says.
"No-one went, 'That sounds like a waste of time'. So they'll open up and talk to you about everything from their own personal history with the place to what they see as its most pressing concerns right now."
He adds: "It helps if you buy them a pint."
With rifts in the economy, politics and society, it often feels like the idea of England is more hotly debated than ever.
The pair didn't attempt to cover the whole country, however. Most of the locations are in the north, with Stoke-on-Trent the most southerly point.
The resulting plays have toured around those six locations under the title The Mysteries – borrowed from the medieval mystery plays – before all being performed at the Royal Exchange theatre in Manchester at the end of October.
"They're all based on a really intensive, impulsive journey, following our noses from what we thought we knew to the things that we didn't even know were there to know before we stumbled across them."
One of the plays is based in Boston, Lincolnshire, which famously registered the highest vote to leave the European Union in the 2016 referendum.
The Boston play is about the accidental death of a child, which forces townspeople "to confront what community means and who they are prepared to help".
Thorpe says: "We spoke to people from various different communities in Boston. The conversations were about the history of its industry, but also the fact that the industry survives on what the people who originally lived there see as non-native labour."
These incomers are not "strange aliens", he continues.
"They are people who live in Boston, who are invested in Boston, who are having children in Boston, who are not going to disappear, no matter what this country decides to do at the end of March next year."
In Eskdale, the pair heard about the struggle for hill farmers to survive on publicly-owned land, and the resulting fictional story is about two sisters who clash over the inheritance of their father's house.
In the village of Staindrop in County Durham, population 1,310, Thorpe found "a kind of feudal land system", with most of the land still owned by one estate. "So we spent a lot of time talking to people about how that fits into a modern village and a modern sense of community."
Next was Whitby, which Thorpe says is dominated by its history – both as a seafaring town and as the inspiration for Bram Stoker's Dracula. That resulted in a play set on the roof of the former tourist information office about how a town uses its past.
The Stoke play is inspired by bell-ringers in Stoke Minster and a ceramicist Thorpe and Pritchard met, who is helping keep the area's traditional pottery industry alive.
And in Manchester, the creators questioned how the city's image – built on its stoic self-sufficiency and its industrial and musical heritage – has been "packaged and sold", both to residents and those wanting to move into the many new developments.
"The idea that that is good for Manchester has been sold back to Manchester," Thorpe says.
He started writing these plays in late 2015 – but he went back to the drawing board after the Brexit referendum in 2016.
"I scrapped everything I'd written because I realised I didn't understand some fundamental things about how this country thought of itself, and about how a lot of people in it seem to think of themselves. And I started again.
"And this show is not about Brexit. But it is about an attempt to understand the country, and I feel like I understand the fundamental needs of someone who lives in a community better than I did before."
Are you from here?
There are clear differences between the places he visited, but Thorpe says there are also common threads.
One is that each place has a strong sense of "people who are 'from there' and 'not from there', and what it takes to be 'from there'."
Another is the fact that the identity of a place ultimately comes down to who owns the land. That is different in each place, but it determines who lives there and what happens there.
"It's different in Staindrop compared with Eskdale. It's different in Manchester, where we feel like this city has been broken up into loads of tiny units of individual ownership, but we live in the city centre in a world that is characterised by corporate ownership and we kind of absorb that on a day-to-day basis," Thorpe says.
"It's different in the vast, flat land of Boston, which is largely agricultural. It's different in Whitby, where actually it's more important who gets to farm the sea than gets to farm the land. And in Stoke there's a difference in the geography.
"One of the fundamental things that shapes the people in those places, whether they're aware of it or not, is who owns the land that they stand on, and that connects them all."
The Mysteries are at the Royal Exchange in Manchester from 25 October-11 November.
Follow us on Facebook, on Twitter @BBCNewsEnts, or on Instagram at bbcnewsents. If you have a story suggestion email entertainment.news@bbc.co.uk.