Travel and ticket warning for Ed Sheeran gigs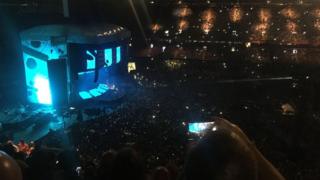 Ed Sheeran has kicked off his run of four performances at Cardiff's Principality Stadium.
The Shape of You singer is performing for about 60,000 fans each night in the city.
He took to the stage after fans experienced traffic problems getting into Cardiff on the M4.
At one time, congestion reached from Cardiff back to the Second Severn Crossing toll booths, a distance of about 30 miles (48 km).
Sheeran said after playing in the city on a previous occasion, he decided "I have to play at that stadium".
Travel time into the city was double the normal amount, partly because of a serious accident on the eastbound carriageway between Cardiff and Newport at about 16:30 BST.
The westbound carriageway was closed for half an hour to allow the air ambulance to land.
Fans had been warned to allow plenty of time to get to the stadium to watch the Thinking Out Loud singer's performance, with enhanced security checks and ticket scrutiny.
The Grammy award winning singer's team have revoked tickets from known touts and cancelled tickets listed on re-sale site Viagogo during his tour.
Music lovers who had bought from the site – often at vastly inflated prices – will be given help in claiming refunds at the box office and will be offered the chance of buying genuine tickets.
Sheeran imposed strict conditions on fans attending his 18-date UK stadium tour, which ends with four sell-out nights in Cardiff, including:
Names printed on tickets, with ID required at the door
A maximum of four tickets per customer
Tickets listed for resale to be cancelled
Any tickets bought by a "business or trader" to be cancelled
Stuart Galbraith, chief executive of Kilimanjaro Live, one of the promoters of Sheeran's tour, said up to 10,000 tickets had so far been cancelled across the 18 dates.
He negotiated with ticket resellers Get Me In, Seatwave and StubHub to make sure they would not list tickets for the tour but Viagogo did not follow suit.
Lauren Hannah, from Cardiff, who is going to Thursday's gig said: "My partner bought me for Christmas [from Viagogo] and he paid £250 a ticket.
"It was sold out. The tickets came a few weeks ago and the face value was £45 each. I was gobsmacked to be honest."
Sheeran has partnered with Twickets – a site which allows fans to swap tickets at face value or less, in order to protect fans from the "unethical practices" of touts.
Plan ahead
Up to 60,000 fans are expected each night and they have been advised to plan ahead for their journey to Cardiff as last trains to destinations such as London, Birmingham, Portsmouth and Aberdare could leave before the concert is due to finish at 22:30.
As well as no services to London Paddington after the Sheeran gig because of a planned Severn Tunnel closure, there will be just one service to Cardiff from London an hour before the concert.
Services from London will not call at Bristol and Cardiff trains coming from England's south coast will terminate at Bristol Parkway where a rail replacement bus service will take passengers to Newport for onward trains to Cardiff.
After the concert, trains to Newport and west Wales will run as normal while rail replacement buses will run directly from Cardiff Central to Bristol Parkway and Bristol Temple Meads.
And Arriva Trains Wales has also warned passengers attending Sunday's event there will be no trains to towns like Barry, Caerphilly, Pontypridd, Ebbw Vale, Treherbert and Carmarthen after the concert.
No extra capacity
While there will be extra services to Swansea and Newport after the gig, Arriva says it has no extra capacity or resources to add more trains on the Valley lines on Sunday night.
"Running additional services late on Sunday would mean having to cancel Monday morning commuter services," said Bethan Jelfs of Arriva.
Transport expert Prof Stuart Cole said while he "sympathises" with Arriva, adding extra capacity on Sunday "is not easy but it is possible" and there was a year to plan for it.
He added: "If Cardiff wants to be a big event city which can regularly attract acts like Ed Sheeran, Coldplay, Beyonce etc, they need to be able to get people in and out of the city efficiently on public transport.
"The problem on Sunday will be rolling stock and drivers will be out of place for the following morning rush hour, but with a little extra planning Arriva could have come up with a solution."
It is not the first time there has been travel problems for an event in Cardiff.
Rugby World Cup organisers held an inquiry into chaos after a game between Ireland and Canada in 2015 as Great Western Railway underestimated passenger numbers.
Boxing fans attending Anthony Joshua's most recent fight at the Principality Stadium were also affected as the last trains out of Cardiff left before the fight finished.
In the city
Some road closures began at 07:00, while the Principality Stadium gates opened at 17:00 and roads in the centre closed at 17:30.
Security to the concert is tight – only small bags are allowed in the stadium while laptops, selfie sticks and umbrellas are banned.
Cardiff buses are being diverted out of city centre bus stops while Arriva has warned passengers train services in the Cardiff area will be busy all day and "extra capacity will be added where possible".
Cardiff Night Marshals will be on for all four nights of the concerts, rather than just the usual Friday and Saturday service.