Alfie Evans case: Court rules against parents again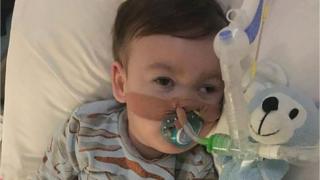 The parents of terminally ill toddler Alfie Evans have lost their latest legal battle.
Tom Evans and Kate James asked Court of Appeal judges to rule that the 23-month-old should be allowed to receive treatment in Italy.
Earlier Alder Hey Children's Hospital urged protesters supporting the parents to show respect.
Judges said they were "dismayed and concerned" by reports of some protesters' actions.
A relative of a patient at a hospital, which won a legal battle to withdraw Alfie's life support, had described visits as "intimidating and scary" because of some of the people protesting.
Mr Evans, 21, and Ms James, 20, who are from Liverpool, have lost fights in the High Court, Court of Appeal, Supreme Court and European Court of Human Rights.
On Monday Lord Justice Davis, Lady Justice King and Lord Justice Moylan ruled against the parents at the appeal court hearing in London.
They also rejected a request for the case to go back to the Supreme Court.
'Groundhog Day'
However, Alfie's parents have 24 hours to ask permission directly from the court if they wish.
Appeal court judges said doctors should continue treating Alfie pending a Supreme Court decision.
Earlier in the hearing, Lord Justice Davis said doctors had agreed that there was "no hope" for Alfie.
He said: "We cannot have a kind of legal 'Groundhog Day' where you come back again and again and again on the same point."
In February, Mr Justice Hayden ruled doctors could stop treating Alfie against the wishes of his parents following hearings in the Family Division of the High Court in London and Liverpool.
Specialists at Alder Hey said life support treatment should stop and Mr Justice Hayden said he accepted medical evidence, which showed further treatment was futile.
Alfie's parents say "the state" is wrongly interfering with their parental choice. They want to move Alfie to a hospital in Rome.
Mr Justice Hayden said flying Alfie to a foreign hospital would be wrong and pointless.
Last week, Mr Justice Hayden endorsed a detailed plan put forward by Alder Hey doctors for withdrawing life-support treatment, after considering a number of issues at a follow-up High Court hearing.