Pret a Manger to label products after allergy death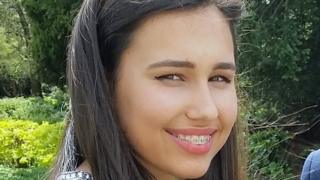 Pret a Manger will list all ingredients, including allergens, on its freshly made products following the death of a teenager who had an allergic reaction after eating a Pret sandwich.
Natasha Ednan-Laperouse, 15, went into cardiac arrest on a flight after buying a sandwich at Heathrow Airport in 2016.
Theresa May called for a review of food labelling laws on Tuesday in the wake of her death.
Clive Schlee, Pret chief executive, said again the firm was "deeply sorry".
"I said we would learn from this tragedy and ensure meaningful changes happen," he said.
"I hope these measures set us on course to drive change in the industry so people with allergies are as protected and informed as possible. Nothing is more important to Pret right now."
The chain will start trialling full ingredient labelling on product packaging from next month and roll it out to all UK outlets as quickly as possible.
An inquest into Natasha's death began last week and heard the artichoke, olive and tapenade baguette the teenager ate contained sesame – to which she was allergic.
The coroner found Natasha had been "reassured" by the lack of specific allergen information on the packaging.
Beatrice, whose real identity the BBC has agreed not to disclose, is also allergic to sesame seeds. She was in hospital for 12 hours after suffering an allergic reaction caused by a Pret sandwich.
She was told Pret had promised to start a full labelling trial at the start of this year.
"It's good that Pret has finally taken this action but the cost to the family is too high," she told the BBC.
"It should never have happened. Why has it taken so long for them to introduce full labelling?"
'Russian roulette'
Foods packaged on-site before sale do not require a specific allergen label attached under existing regulations.
Takeaways and restaurants are only required to let customers know if any of the 14 most common dangerous allergens – including peanuts, eggs and milk – are ingredients in their food.
However, freshly made, non pre-packaged food does not have to be individually labelled, according to the UK's Food Regulations 2014.
Natasha's parents have been campaigning to change food labelling laws, which they described as having "played Russian roulette" with their daughter's life.
---
What are the laws on allergens in food products?
Sesame is one of the 14 allergens that consumers must be made aware of when it is used as an ingredient in food products, according to EU regulations
However, the EU rules say individual member states are responsible for deciding how information about non pre-packaged food is provided to the customer
The UK's Food Regulations 2014 allow freshly handmade, non pre-packaged food to not be individually labelled
Pret confirmed at the time of Natasha's death products would not have been individually labelled with allergen or ingredient information, and that this was within regulations
However, Pret said there were signs in the fridge and at tills telling consumers with allergies to speak to a manager for advice or to see its allergen guide
---
The prime minister said the government would look at food labelling responsibilities of individual companies.
Her comments follow Environment Secretary Michael Gove telling civil servants on Monday to investigate changing the law.
He said Natasha's family was "absolutely right" to call for the law to be changed.