Andy Burnham: Labour conference is too London-centric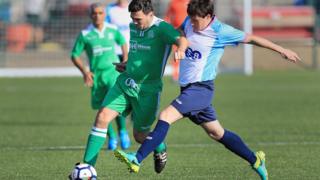 The Labour mayor of Greater Manchester has criticised his "London-centric" party for not giving its political leaders from the north of England speaking slots at conference.
Andy Burnham said he was disappointed at the lack of "prominent northern voice" to "balance" London Mayor Sadiq Khan, who has been invited to speak.
Jeremy Corbyn wants to "rebalance" the conference in favour of members.
The annual party get-together is under way in Brighton.
Having won the Greater Manchester mayoral election in May, Mr Burnham is one of Labour's most powerful elected politicians. But he will not be speaking from the stage in Brighton.
'This is institutional'
He told the BBC's Sunday Politics: "It is not about me having a divine right to speak at conference.
"But it disappoints me that there is no prominent northern voice from one of the cities speaking to balance Sadiq Khan."
He added: "This is not a Jeremy criticism. This is institutional. The party is too London-centric.
"It isn't thinking enough about getting a strong message to voters in the North.
"What troubles me a little is that we have got the mayor of London speaking but not the mayor of Liverpool city region, Steve Rotheram. Not the leader of Newcastle City Council, Nick Forbes.
"Why haven't we got balance here? What does it say about the party's commitment to devolution?
"It could suggest that it's half-hearted. I would say to them 'Let's not do this again'."
Defending the arrangements in an interview with BBC North West Tonight on Friday, Mr Corbyn said: "I want to make sure that delegates have more time to speak than in the past and so we've reduced the number of platform speakers and reduced the time for platform speakers, including shadow cabinet members.
"I can't say any of them are very happy about it but it has to be done if we're to rebalance our conference.
"And I want to make sure there is a big voice for local government."
Fees debate
Meanwhile, some MPs were denied access to the auditorium floor in favour of rank and file delegates in what BBC political correspondent Iain Watson said was another sign of the changing nature of Labour's conference.
MPs used to have reserved seating in their own "pen", he said.
Labour sources said when the floor was full all non-voting delegates had to sit in the balcony areas.
In his Sunday Politics interview, Mr Burnham also questioned Labour's flagship pledge to scrap university tuition fees in England.
"I just question is that the fairest way to spend money, to give it all to university students who may go on to a more middle class lifestyle and earnings?
"I would say; what about 16 to 18 year-olds who lost their education maintenance allowance?
"What about those kids on the apprenticeship wage? What about technical education?"