Army chief to call for investment to keep up with Russia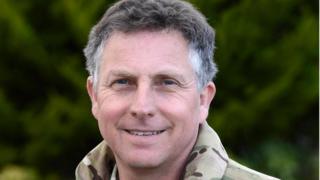 Britain's armed forces risk falling behind Russia without more investment, the head of the Army will say.
General Sir Nick Carter will say the British Army's ability to respond to threats "will be eroded if we don't keep up with our adversaries".
The speech – approved by Defence Secretary Gavin Williamson – comes amid speculation of potential defence cuts.
The warning comes after Russia practised simulated attacks across northern Europe.
In the speech, which will take place at the Royal United Services Institute on Monday, Gen Carter will highlight Russia's new cyber warfare capabilities.
The Russian army conducted large scale military exercises last year, including simulated attacks across northern Europe, from Kaliningrad to Lithuania.
Gen Carter will also highlight the Russian army's long-range missile strike capability. While Russian forces were intervening in Syria, 26 missiles were deployed from a 1,500km (930 mile) range.
He will add that Russia is building an increasingly aggressive expeditionary force, which already boasts capabilities the British Army would struggle to match.
Potential military threats to the UK "are now on Europe's doorstep," Gen Carter will say.
Last year Prime Minister Theresa May said Russia had "mounted a sustained campaign of cyber espionage and disruption" against other nations.
Former Royal Navy Rear Admiral Dr Chris Parry said the British military had fallen a long way behind Russia's capabilities.
He told BBC Radio 4's Today Programme: "I think in qualitative terms we would fare very badly, whether it was the Army, navy or air force against current Russian capabilities.
"I'm afraid to say the world is changing, it's moving. The Russians – and the Chinese – are developing capabilities right now with which we cannot cope today."
---
Analysis
By Jonathan Beale, defence correspondent
The reality is that Britain would never confront a threat like Russia on its own. That's why it is part of Nato.
But even as a key member of the alliance, the truth is that some of the UK's weapons are increasingly outdated.
While Russia's been developing new Armata tanks, the British Army's Challenger 2 hasn't been modernised for 20 years.
Many have been mothballed as the UK focused on the counter-insurgency campaign in Iraq and Afghanistan. Britain's ground-based air defence systems are also becoming increasingly obsolete and no match for Russia.
Still, the likelihood of any direct military confrontation with Russia seems extremely remote.
True, the US National Defence Strategy recently highlighted the risks of a more assertive Russia and China.
But for now, the concern is more about those countries using cyber and misinformation to disrupt life in the West.
General Carter's intervention is more driven by fears of further deep cuts to the UK's armed forces. The Ministry of Defence has a black hole in its budget.
It is rare for a military chief to make such an obvious and public appeal for more cash.
But he's doing it under the orders of the Defence Secretary Gavin Williamson. He has sent his generals over the top to put pressure on the chancellor.
---
In December Air Chief Marshal Sir Stuart Peach said the UK should prioritise protecting undersea cables from the Kremlin, as disruption could be "potentially catastrophic" to the economy.
The speech comes as national security adviser Mark Sedwill conducts a review of the UK's security capabilities.
All three armed forces have been asked to put forward options for cuts as the Ministry of Defence looks at how it will control spending.
There are concerns within the forces that the review will prioritise counter-cyber attacks and terrorism, rather than major defence.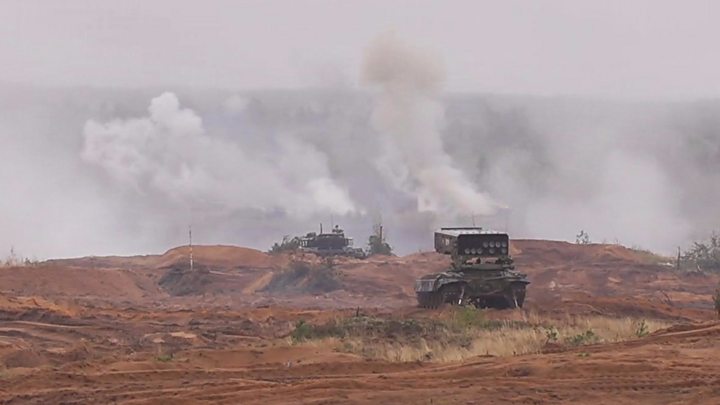 Britain's armed forces are now at their smallest since the Napoleonic wars. The size of the Army has been cut from more than 100,000 to 82,000 since 2010.
Last week Conservative MP Julian Lewis, chairman of the Commons defence select committee, posed an urgent question in the Commons after speculation that there were plans to cut the UK military by 14,000 service personnel, nine warships and 100 helicopters.
Mr Williamson said "hard work" is taking place to give the armed forces the "right resources".
Some MPs have called to increase defence spending to 3% of GDP – it is currently at 2%, in line with the guideline for Nato members.