Boris Johnson urges EU to progress Brexit talks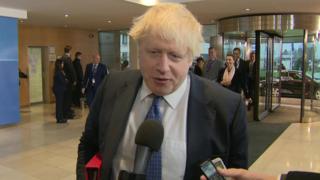 Boris Johnson has urged the EU to move Brexit talks forward so divisions over the Irish border can be "thrashed out".
The foreign secretary said getting on with trade talks was the "solution" to the current impasse.
But the EU says this can only happen when enough progress has been made in agreeing what will happen at the Northern Ireland border.
On Monday Northern Ireland's Democratic Unionist Party objected to draft plans drawn up by the UK and the EU.
The DUP said the proposals, which aimed to avoid a "hard border" by aligning regulations on both sides, were not acceptable. Dublin says it wants firm guarantees that a hard border can be avoided.
This has left the UK government racing to find an agreement suiting all sides in time for next week's EU summit.
Prime Minister Theresa May is understood to be talking to DUP leader Arlene Foster on the phone.
At the 14-15 December summit, European leaders will decide whether enough progress has been made in the negotiations so far to open trade talks.
'Fundamental problem'
Speaking to reporters in Brussels, Mr Johnson said the current impasse was "all the more reason to get on with stage two of the negotiations".
Because the UK has said it is leaving the EU's customs union, the government is seeking an arrangement to avoid border checks at the border with the Republic of Ireland, which is an EU member.
On BBC Radio 4's Today programme, Jonathan Powell, who was an adviser to Tony Blair during the Northern Ireland peace process, doubted whether a solution could be found.
The "fundamental problem", he said, was that "if you have a different customs policy you have to have a hard border… otherwise why would any country have a border?"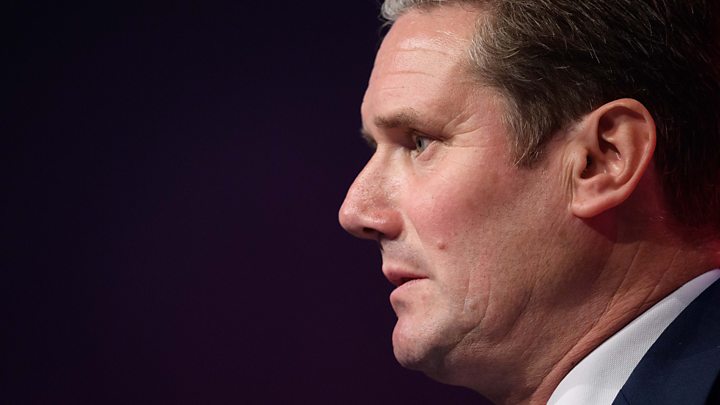 UK ministers say technological solutions and alignment of regulations with the EU in certain areas can avoid the need for border checks.
Labour says the option of staying in the EU's customs union long-term should be kept "on the table" in negotiations and has criticised the government for ruling this out.