Brexit: Nigel Farage to go 'on the road' with Leave group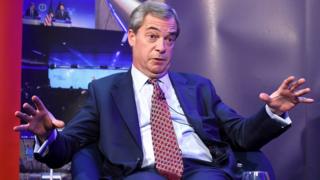 Nigel Farage has said he is going "back on the road" to campaign against the prime minister's Brexit plan.
Writing for the Daily Telegraph, the UKIP MEP said Theresa May's Chequers agreement was a "sell-out" because it included regulatory alignment with the European Union.
He added he would join Eurosceptic group Leave Means Leave at a series of public events across the UK.
The 54-year-old said a "battlebus" had already been hired.
The former UKIP leader's announcement comes after a string of resignations last month over the prime minister's Brexit strategy – including those of David Davis and Boris Johnson.
Mr Davis quit as Brexit secretary saying he did not agree with Mrs May's proposals, while former foreign secretary Mr Johnson accused the prime minister of pursuing a "semi-Brexit".
Mr Farage said "scores of people" had stopped him in the street to ask when he was "coming back".
He added: "Well now you have your answer: I'm back."
His comments also come amid calls for a second referendum on the final Brexit deal.
Campaign group People's Vote has also criticised the government's handling of negotiations with the European Union.
People's Vote argues the public should be allowed a say on the final deal agreed with the EU.
On Friday, Foreign Secretary Jeremy Hunt insisted Britain would "survive and prosper" if it left the EU without a trade deal – but added it would be a "big mistake for Europe".
The UK is due to leave the European Union on 29 March 2019.