Calls for abortion clinic buffer zones rejected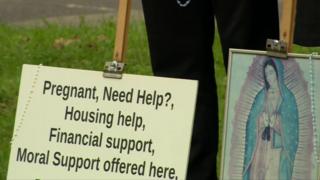 Calls for buffer zones to be introduced outside abortion clinics to stop patients being harassed have been rejected by the home secretary.
Sajid Javid said such protest-free areas around UK clinics "would not be a proportionate response".
He said a Home Office review found cases of harassment and damaging behaviour but they were "not the norm".
His predecessor, Amber Rudd, has said it was "unacceptable" that anyone should feel intimidated at a clinic.