Carl Sargeant told family 'I failed you', inquest hears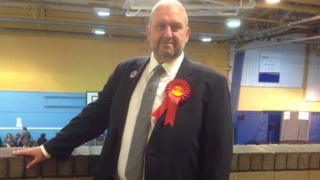 A sacked Welsh Government minister found dead at his home last year left a letter telling his family "I have failed you", an inquest has heard.
Labour AM Carl Sargeant, 49, was found hanged four days after First Minister Carwyn Jones dismissed him as communities and children secretary.
The father-of-two faced allegations of inappropriate behaviour towards women, a claim he denied.
He wrote: "You deserve none of this adverse publicity because of my acts."
Coroner John Gittings has previously said the provisional cause of death was hanging in "an apparent act of self harm".
Mr Sargeant's letter, read to the inquest on Monday, said: ""To Bernie, Lucy, Jack and family/friends. I have let you down badly. You deserve none of this adverse publicity cause of my acts. I have failed you.
"That aside, I love you more than you'll ever know and I'm sorry I have taken the easy way out, leaving you with my shit. Please forgive me. I love you, Carl/Dad."
At the start of the inquest, Mr Gittings said there was no room in his court room for speculation or accusation, adding: "This will not be a trial by press, politics or personality."
Mr Sargeant's wife Bernadette, who found his body on the utility room floor at their house in Connah's Quay, Flintshire, will be one of the witnesses at the inquest.
The first minister, who is due to appear at the five-day inquest in Ruthin in Denbighshire on Wednesday, said he "welcomes the opportunity to give my side of the story".
"I have not been able to do that so far," Mr Jones told BBC Radio Wales' Sunday Supplement programme.
Who was Carl Sargeant?
Mr Sargeant had been a Welsh Government minister for eight years before his sacking in November last year.
The former environmental auditor and industrial firefighter had been a Welsh Assembly member since 2003.
Mr Sargeant was appointed Labour's chief whip and deputy minister for assembly business following the 2007 election.
He was promoted to the cabinet in 2009 as minister for social justice and local government, then served as housing and natural resources minister before being appointed communities secretary in May 2016.
Mr Sargeant helped drive legislation to tackle domestic violence and led the Welsh Government's response to the Grenfell Tower fire, promising Welsh high-rise blocks were as safe as they could be.
Mr Jones added: "It's very important not to be drawn into an argument beforehand, where people claim all manner of things that you know aren't true.
"The proper time to explain to people what actually happened is the formal process and that's the inquest."
Mr Sargeant's cabinet colleagues, Lesley Griffiths and Ken Skates, will also give evidence.
The inquest is set to hear from Mr Sargeant's son Jack, who succeeded him as the AM for Alyn and Deeside.
Mr Sargeant was facing a party investigation into claims about inappropriate personal conduct with women and was suspended from the Welsh Labour Party prior to his death.
His family said he was not told the details of what he was accused of and was unable to properly defend himself.
An independent investigation into how Mr Jones handled Mr Sargeant's sacking will begin in the new year.
Earlier this month, the High Court gave the family permission to challenge the format of a separate investigation into how his sacking was handled, with his wife saying she feared the probe would be a "cover-up".
Key moments around Carl Sargeant's death
3 November 2017: Mr Sargeant is sacked as Welsh minister and suspended from the Labour Party pending an inquiry into allegations about his conduct.
7 November: Mr Sargeant is found dead at his home in Connah's Quay in Flintshire.
10 November: Wales' first minister orders an inquiry into how he handled Mr Sargeant's sacking.
13 November: An inquest gives a provisional cause of death.
1 December: The funeral service for Carl Sargeant takes place in Connah's Quay with Labour leader Jeremy Corbyn among the mourners.
6 February 2018: Jack Sargeant succeeds his father as Alyn and Deeside AM.