Gordon Brown: Rogue bankers should be jailed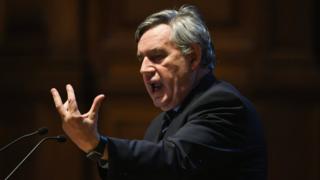 Dishonest bankers should face jail for taking risks with taxpayers' money, ex-prime minister Gordon Brown says.
In his memoir, Mr Brown said failing to put fraudsters in prison would "give a green light" to the sort of behaviour that led to the financial crash.
He also said "little has changed" since the crash, which came during his time in Number 10.
The year 2009 "has proved to be the turning point at which history failed to turn", he said.
Mr Brown was Labour prime minister during the worst financial crisis since the great depression of the 1930s, and in October 2008 his government unveiled a £400bn package aimed at rescuing the UK's banking system.
In his memoir My Life, Our Times, he said he had been prepared to quit Downing Street if it had not gone according to plan.
"As I walked into the office, I didn't know if I'd still be there at the end of the day," he said.
Nearly a decade on, Mr Brown – who lost the 2010 general election and quit as an MP in 2015 – has said not enough has been done to prevent another crash.
"Little has changed since the promise in 2009 that we bring finance to heel," he said.
"The banks that were deemed 'too big to fail' are now even bigger than they were."
He said billions of pounds were still being paid in bonuses, and that banks had "circumvented" the EU bankers' bonus cap.
"One of the arguments for high pay in the banking sector – that they take risk – has not survived the crash," he said.
"With many banks backstopped by the taxpayers, they make their profits at least in part because of the government guarantee. The risks they are taking is often not with their money but with ours."
He questioned why bankers who had been involved had not been prosecuted in the way they were in Ireland, Iceland, Spain and Portugal.
Mr Brown suggested provisions in the Fraud Act might be a tool for this to happen, adding: "If bankers who act fraudulently in this way are not put in prison with their bonuses returned, assets confiscated and banned from future practice, we will only give a green light to similar risk-laden behaviour in new forms."
He also expressed regret that his plans for a "global banking constitution" to head off future financial crises had not been realised by the time he left office.
"Just at the time I argued for enhanced cooperation, I found resistance to change was growing," he said.