House of Commons staff credit card purchases revealed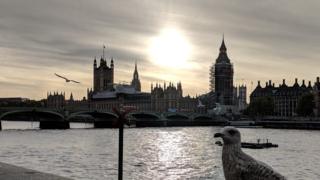 Football kit and a book on facial hair were among items bought by Commons staff using government credit cards, the BBC has learned.
A Freedom of Information request showed £200 had been spent on the football kit and £140 had been claimed for cinema visits under "office supplies".
The charge cards are used to pay for "business expenses".
A Commons spokesman said the items had followed purchasing policy as "genuine business transactions".
The disclosures follow a Freedom of Information request submitted by the BBC in January asking about House of Commons' government procurement cards.
Beard book
The reply showed that House of Commons & Parliamentary Digital Service staff had spent a total of £630,000 using the cards over the last two years.
It said there were 205 cards in circulation for staff "to make quick, simple and cost-effective purchases when they are either away from their workplace, on business" or for "very low value items".
A £30 book entitled Framing the Face: New perspectives on the History of Facial Hair was among the items purchased using the cards.
Staff also spent £1,699 in luxury US department store Barney's – although this money was later returned. A further £200 was used to pay for football kit, the documents showed.
Pub trips
The papers also showed staff claimed £1,500 for pub trips for educational and parliamentary outreach, while £140 of cinema visits were claimed as "office supplies".
However, a House of Commons spokesman said all the items listed had correctly followed purchasing policy as "genuine business transactions". He added that use of the cards to purchase alcohol was limited to specific circumstances.
"The procurement cards allow some members of the House of Commons service to pay for low value items in a cheap, secure and quick way," the spokesman said.
"Failure to follow the agreed procedures may result in the card being withdrawn."
A separate 2016 audit report, also released to the BBC under the Freedom of Information Act, found that "most cardholders had not effectively read or understood the procurement policy, particularly with regard to prohibited purposes." It looked at a sample of 50 spends made by Commons staff and found 21 were for prohibited purposes.