John McDonnell: Grenfell victims 'murdered by political decisions'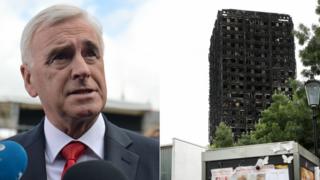 Labour's John McDonnell has claimed victims of the Grenfell Tower fire were "murdered" by "political decisions".
The shadow chancellor made the claims at a Glastonbury Festival event on Sunday – a day after Jeremy Corbyn addressed thousands of people there.
Mr McDonnell claimed the decision to "view housing as only for financial speculation" meant the Grenfell Tower victims were "murdered".
He also said closing fire stations "contributed" to the deaths.
At least 79 people are feared to have died in the fire in west London, which began in the early hours of 14 June.
It's thought the building's recently-installed cladding may have helped the fire to spread. The prime minister ordered a public inquiry on 15 June.
Since then, cladding on 60 high-rise buildings in 25 areas across England has failed fire safety tests.
Mr McDonnell, the MP for Hayes and Harlington, was speaking in a panel debate at the Glastonbury's Left Field event, chaired by Guardian journalist John Harris.
He said: "Is democracy working? It didn't work if you were a family living on the 20th floor of Grenfell Tower.
"Those families, those individuals – 79 so far and there will be more – were murdered by political decisions that were taken over recent decades.
"The decision not to build homes and to view housing as only for financial speculation rather than for meeting a basic human need made by politicians over decades murdered those families.
"The decision to close fire stations and to cut 10,000 fire fighters and then to freeze their pay for over a decade contributed to those deaths inevitably, and they were political decisions."
A source close to Mr McDonnell confirmed the quotes were accurate.
After the Grenfell fire, the Metropolitan Police said cladding and insulation failed safety tests.
Cladding is now being tested from up to 600 tower blocks across England.
On Sunday, the government reported that cladding on 60 high-rise buildings across 25 local authority areas had failed safety tests.
No cladding sample has passed the tests so far.
Over the weekend, Camden Council evacuated 650 people from four tower blocks in Swiss Cottage area, after London Fire Brigade raised concerns about cladding, gas pipe insulation, and fire doors.
The four blocks were renovated by Rydon between 2006 and 2009 – the same company which oversaw the refurbishment of Grenfell Tower from 2015 to 2016.