John McDonnell: Water, rail and energy should be run by co-operatives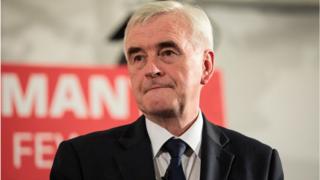 Co-operatives rather than old-style nationalised industries should run services like water, energy and rail, shadow chancellor John McDonnell says.
He says Labour wants to bring in regionalised community-owned services, such as locally-owned water companies.
Outlining his plans in a speech in London, Mr McDonnell said privatisation had failed.
However, the Conservatives said the plan would cost taxpayers billions of pounds and lead to worse services.
Speaking before the speech on BBC Radio 4's Today programme, Mr McDonnell said: "We must devolve powers, we must ensure that the people who are the real experts about the service levels, the workers themselves, the passengers and the consumers and expert management are brought together.
"Let's take water for example. They've given out £18bn of dividends to their shareholders, sometimes they've actually given out more in dividends than they've made in profits.
"I think what we need now is a management, structure which takes in account the views of consumers about price levels, listens to the workers about how you deliver the service, and also what the fair distribution of rewards is."
"What you'll have is sensible people sitting around the table, planning their industry their sector at a devolved level, largely at a local level, what will be best for them in terms of yes charges, wages and investment for the future."
'Wind back clock'
Treasury Chief Secretary Liz Truss said: "Labour would put politicians in charge of running everything from the phone lines to electricity supply, meaning people have nowhere to turn when things go wrong. That didn't work last time and won't work this time."
And UK business group the CBI said Labour's calls for nationalisation would "wind the clock back on our economy".
Managing director for people and infrastructure Neil Carberry said: "If Labour turns its back on good collaboration between the government and the private sector, public services, infrastructure and taxpayers will ultimately pay the price."
Mr McDonnell announced the creation of a working group to look at how co-operatives can grow, expand and access funding, and to decide which sectors should be prioritised in the expansion of cooperative ownership.
He argues public ownership of services could be achieved at no cost to the taxpayer by swapping government bonds for company shares.
But earlier this week the Social Market Foundation think tank suggested it would cost £90bn just to renationalise the water industry.