Labour front bench row over Trident commitment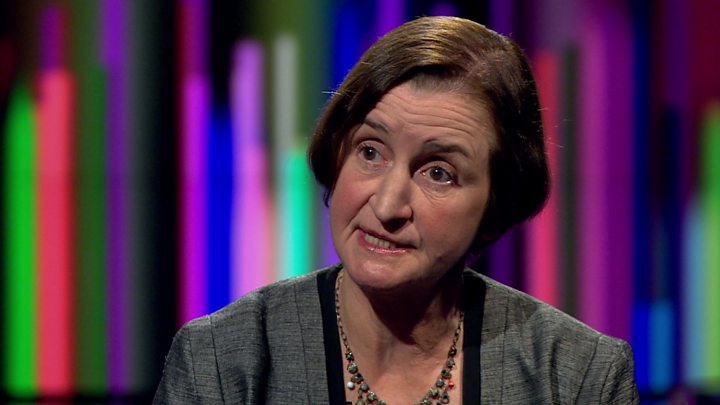 The shadow foreign secretary was wrong to suggest Labour might drop its commitment to Trident, shadow defence secretary Nia Griffith has said.
Frontbencher Emily Thornberry suggested support for the nuclear weapons system was subject to a defence review, should Labour win power.
Ms Griffith said the issue was "already settled". Labour's John Woodcock said steel had been cut for new submarines.
The Conservatives say Labour would put the UK's security "at risk".
Labour's manifesto – launched on Tuesday – included support for the nuclear weapons system.
The Commons backed the renewal of Trident in 2016, by 472 votes to 117, approving the manufacture of four replacement submarines. Labour was split over the issue, with 140 of its 230 MPs going against leader Jeremy Corbyn and backing the motion.
Speaking on LBC radio, Ms Thornberry had said she was "sceptical" about Trident.
When asked to confirm that it would remain as Labour policy after a defence review, she added: "Well no, of course not, if you are going to have a review, you have to have a review."
The shadow foreign secretary said the UK needed to keep updating its defence policy and make sure any war would be "fought on 21st Century terms".
But Ms Griffith told BBC Newsnight: "With all due respect, Emily is not the shadow defence secretary. I am."
She said the party was "fully committed" to having a nuclear deterrent and that the defence review would look at how a Labour government would spend money.
"What it is not about is actually questioning whether we would have a Trident nuclear deterrent because we settled that last year," she added.
Asked if Ms Thornberry was wrong, Ms Griffith went on: "Indeed. Last year we looked at it, in particular, at the national policy forum and it was decided that we would keep the nuclear deterrent."
Former shadow minister John Woodcock, who is standing again in the Barrow and Furness constituency, where the new nuclear submarines are being developed, said Trident's renewal had already "passed the point of no return".
'It's tough'
He told BBC Radio 4's Today programme: "Whether you're in favour of Trident renewal or not, it's kind of tough now because it's happening. We had the vote last year, we've put the project past the point of no return."
He added: "Where I am now I can look over at Barrow shipyard which is employing 9,000 people and has already cut steel on the submarines, so this is going to go ahead."
Mr Woodcock, a critic of Mr Corbyn's leadership, said it was "unfortunate" that Ms Thornberry's comments would distract from Labour's attack on the Conservatives' manifesto.
Full list of candidates in Barrow and Furness
Asked whether the policy could yet be reversed were Ms Thornberry to become foreign secretary, Mr Woodcock said: "Well I'm afraid she's not going to be – and Labour is going to be in opposition. But the important thing is that we have as strong an opposition as we can."
BBC political correspondent Mark Lobel said Ms Thornberry's team had since said there was no difference between the two shadow ministers in terms of party policy and she had been expressing her personal view about Trident's viability and costs.
For the Conservatives, Bob Neill said: "Jeremy Corbyn and Emily Thornberry want to disarm Britain and put our security at risk.
"Corbyn's coalition of chaos would scrap Trident, abandon our allies and would rather talk to Daesh [so-called Islamic State] than strike its barbaric leader."