MPs demand Parliament be recalled after Scottish prorogation court ruling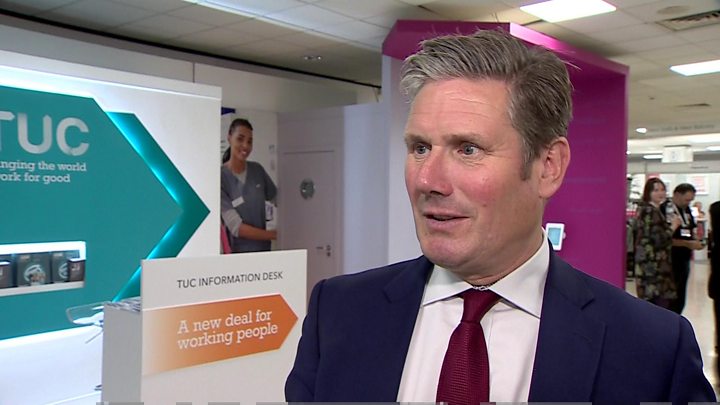 Opposition MPs are demanding Parliament be recalled after a court ruling deemed its five-week closure unlawful.
Parliament was suspended on Tuesday, something Boris Johnson said was normal practice for a new government.
But critics claimed his intention was to avoid scrutiny in the run-up to the Brexit deadline on 31 October.
No 10 said it was "disappointed" but Parliament would remain prorogued pending its appeal to the Supreme Court, which will be heard on Tuesday.
Downing Street said it had been "consistent throughout" on why the current parliamentary session should be ended, a decision formally taken by The Queen earlier this month on the advice of Boris Johnson.
Labour, the SNP and the Lib Dems are all demanding that MPs be recalled as early as Wednesday afternoon and some have returned to Parliament to protest.
They are not due to sit again until 14 October when the government had planned to hold a Queen's Speech, setting out its policy agenda.
'Very powerful'
In a summary of their findings, the Court of Session judges said they were unanimous in their belief that Mr Johnson was motivated in his decision to prorogue by the "improper purpose of stymieing Parliament".
They added: "The Court will accordingly make an Order declaring that the prime minister's advice to HM the Queen and the prorogation which followed thereon was unlawful and is thus null and of no effect."
The decision contrasts with a ruling by England's High Court last week, in a case brought by anti-Brexit campaigner Gina Miller, which determined the government's actions were lawful.
Outlining the reasons for that decision on Wednesday, it said the power to suspend, or prorogue, Parliament rested with the government and was outside the purview of the courts, adding "the refusal of the courts to review political questions is well-established".
The Supreme Court's nine justices will now consider the government's appeal of the Scottish ruling at the same time as Mrs Miller's appeal. No 10 said it would abide by their decision.
But former Tory MP Dominic Grieve – who had the Conservative whip removed after voting to block a no-deal Brexit – called for Parliament's immediate recall and said if it was the case the government had misled the Queen, Mr Johnson should resign.
The judges made it "quite clear" the explanation for suspending Parliament was "simply inaccurate and untrue", he added.
Shadow Brexit secretary Sir Keir Starmer told the BBC: "Most people didn't believe Boris Johnson, but for the courts to find he has unlawfully shut down Parliament and that his motive wasn't the one he said it was? That's very powerful.
"I call on him to recall Parliament. Let's get it back open, and sitting this afternoon and tomorrow, so we can debate what happens next and we can debate this judgement."
The SNP's leader in Westminster Ian Blackford, who has written to the prime minister to insist Parliament is recalled, said: "Every day Parliament remains suspended, Boris Johnson and the UK government are shutting down democracy."
During the suspension, parties are due to hold their annual conferences but no debates, votes or official committee scrutiny sessions will take place.
'Alternative locations'
But following Wednesday's ruling, some MPs returned to the empty Commons chamber and others held an impromptu news conference outside Parliament insisting they were "ready to work and represent their constituents".
Labour's Stephen Doughty said, pending Tuesday's ruling, MPs would find "other ways" to hold the government to account – potentially in "alternative locations".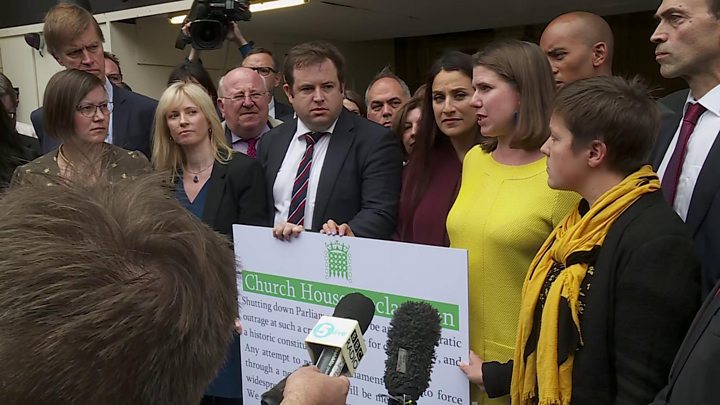 And Lib Dem leader Jo Swinson said the opposition parties would continue to co-operate to "make sure we do our job".
Government sources said those trying to recall Parliament were seeking to pre-empt the appeal.
No 10 also denied reports that sources had been critical of the Scottish judges.
Justice Secretary Robert Buckland later tweeted he had "total confidence" in the court's independence.
While it awaited the verdict of the Supreme Court, No 10 said it stood by its justification for curtailing the current Parliament session.
It said it had been the longest in almost 400 years, that Parliament had in recent months become "one of the least active" and that the PM wanted to put a "proper domestic legislative programme" before MPs.
But the SNP's Joanna Cherry, who was one of the lawyers involved in the case in Scotland, said Parliament should be recalled "for the time being".
She told the BBC that, even if the Supreme Court were to issue its decision immediately, "we will have lost about 10 days of Parliamentary time".
The BBC's political editor, Laura Kuenssberg, said the law in Scotland was different to that in England and the ruling would put "massive pressure" on the Supreme Court over who to side with.
A bombshell moment?
The response of Team Johnson this morning has been to say "calm down, we are not recalling Parliament now, just wait and see what the Supreme Court decides."
But any way you look at it, this is bad for the prime minister and has the potential to become a full-blown bombshell moment for him.
Bad because he has been judged to have behaved unlawfully and, more than that, the judges clearly believe he misled Parliament.
If the Supreme Court upholds their view, it seems he will have no option but to recall Parliament which would be a political humiliation for him.
On top of that, MPs will almost certainly vote to scrap the party conference recess and sit through September right up to the 31 October Brexit deadline.
The bottom line, to put it mildly, is that an awful lot is hanging on what the judges decide on Tuesday.
Guto Bebb, another Conservative rebel stripped of the whip last week, said No 10 must now release all internal communications relating to the decision to suspend Parliament as demanded by MPs in a vote on Monday.
"We now have a question as to the integrity and honesty of the Downing Street operation," he told Radio 4's World at One.
But Tory MP Nigel Evans, a former deputy Speaker, said if Parliament was recalled he feared a repeat of the "disgraceful antics" which proceeded Tuesday's prorogation – when some MPs tried to stop the Speaker from leaving his chair and sang songs in the chamber.
And Brexit Party leader Nigel Farage said the decision "smelt" of judicial interference.
"How can a Queen's Speech be unlawful?" he said. "The establishment will stop at nothing to frustrate the will of the people."