MSPs urged to reject EU Withdrawal Bill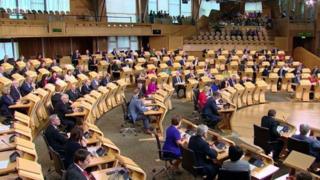 MSPs will be asked to formally refuse to give Holyrood's consent to the EU Withdrawal Bill on Tuesday.
The Scottish and UK governments are at odds over provisions of the Brexit legislation on what happens to devolved powers after the UK leaves the EU.
Scottish ministers have put forward a motion for debate on Tuesday, asking MSPs not to give consent to the bill.
It is expected this will pass, with Scottish Labour and the Greens backing the SNP in opposing parts of the bill.
UK ministers have refused to say if they would go ahead and legislate without Holyrood's consent, saying there is still a chance to come to an agreement.
The row centres on how devolved powers currently exercised from Brussels are used after Brexit.
The Scottish and UK governments agree that some should be used in UK-wide "frameworks" of powers, creating joint rules and regulations across the UK, but their views differ on how these should be set up and run.
Scottish ministers want Holyrood's express consent to be sought for the use of these powers, while UK ministers argue that this could give the devolved parliaments a "veto" over UK-wide structures.
A long-running series of talks has failed to produce a deal between the two sides, although UK ministers were able to strike an agreement with counterparts in Wales. Welsh parliamentarians will consider a consent motion of their own on Tuesday.
Scottish ministers say they could now rely on their own alternative Brexit legislation, which was passed by MSPs but has been challenged in the Supreme Court by UK law officers.
Holyrood's constitution committee has published a report recommending that if a political solution to the row cannot be found, MSPs should refuse consent for the contentious sections of the Withdrawal Bill.
SNP, Labour and Green members backed this position, while Conservative committee members voted against it.