Net migration falls after Brexit vote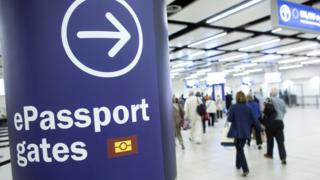 Net migration fell by nearly a third to 230,000 in the year to June, new figures show.
It is the first time that a full year of data has been available since the UK voted to leave the EU last June.
The figure is still short of the Conservatives' target to reduce net migration to the "tens of thousands".
Net migration is the difference between people coming to the UK for more than a year, and the number of people leaving the UK for a year or more.
In this 12-month period, 572,000 people arrived in the UK, and 342,000 emigrated.
The Office for National Statistics said the 106,000 fall on the previous year's net migration figure was the largest annual decrease recorded.
This was substantially down on its high of June 2016 and now at similar levels to 2014, the ONS said.
The figures show significant falls in the number of people arriving from the EU, particularly those who classed themselves as looking for work, rather than those arriving for a actual job.
The number of non-EU citizens leaving has remained stable over the past year – but the number of people leaving the UK who are EU citizens has increased by almost a third, the data showed.
Applications by EU nationals to become British citizens were also up by 80%, the ONS said.
The Conservatives' aim since 2010 has been to reduce net migration to below 100,000.
The pledge to reduce net annual migration to the "tens of thousands" was in the 2010, 2015 and 2017 Tory manifestos.
Neither Prime Minister Theresa May nor her predecessor, David Cameron, have come close to meeting that target.