Nigel Farage 'doubts' FBI Trump probe claim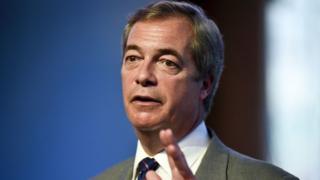 Nigel Farage says it is "extremely doubtful" he could be a "person of interest" to the FBI's investigation into Donald Trump and Russia.
The former UKIP leader said he had "no connections" to the country.
The Guardian is reporting that the FBI is interested in his links with individuals connected to Mr Trump and Wikileaks founder Julian Assange.
But it added he had not been accused of wrongdoing and was not a suspect or a target of the probe.
The FBI is carrying out an inquiry into Russia's alleged meddling in the US presidential election and any ties to the Trump campaign.
The Guardian quotes unnamed sources with knowledge of the investigation, who say Mr Farage had come to the attention of investigators because of his links to the Trump campaign and Mr Assange, who had a meeting with Mr Farage in March, at the Ecuadorian embassy in London, where he is living.
'Hysterical'
"One of the things the intelligence investigators have been looking at is points of contact and persons involved," the source is quoted as saying.
In a statement entitled "fake news", Mr Farage said: "In response to the Guardian article, it has taken me a long time to finish reading because I am laughing so much.
"This hysterical attempt to associate me with the Putin regime is a result of the liberal elite being unable to accept Brexit and the election of President Trump.
"For the record I have never been to Russia, I've had no business dealings with Russia in my previous life and I have appeared approximately three times on RT (Russia Today) in the last 18 months.
"I consider it extremely doubtful that I could be a person of interest to the FBI as I have no connections to Russia.
"My meeting with Julian Assange was organised for me by LBC Radio with a view to conducting an interview."
Mr Farage's office said he would be making no further comment on the matter.