No-one in Wales is niche, says Plaid's Leanne Wood to critics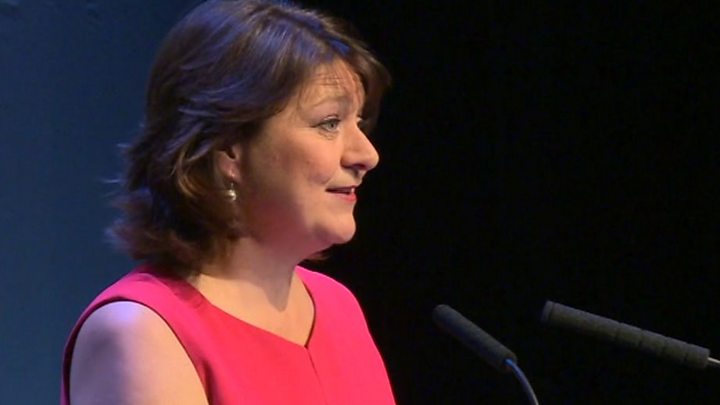 The former leader of Plaid Cymru has hit back at critics in the party for accusing her of focusing too much on "niche issues".
Leanne Wood said tackling racism, the far-right and violence against women is a "central part" of the Plaid Cymru cause.
Her speech won a standing ovation at the party's autumn conference.
The AM for the Rhondda was defeated in the Plaid Cymru leadership election by Adam Price in September.
During the contest Ms Wood was criticised by Plaid MP Jonathan Edwards for focusing too much on "niche issues that interest her".
"There is no such thing as a niche issue in Wales", Ms Wood said to applause at the Plaid Cymru autumn conference in Cardigan.
"No one is niche."
Ms Wood said she had been criticised "for focusing too much of my time on niche or minority issues, that some people have dismissed as being unimportant to our cause."
"But to me, building a society where trans-people can be themselves, where racism is no more, where people can speak Welsh unhindered, where women are free from violence and the far right don't threaten our communities, is a central part of our cause," she said.
"We want to create an independent Wales in order to create a better society for everyone."
Analysis
By Felicity Evans, BBC Wales political editor
Party members gave Leanne Wood a genuinely warm reception as she delivered her speech. She was relaxed and confident, clearly enjoying the experience.
It is hard to believe that it is barely a week since she was so convincingly defeated in the leadership contest.
That's where she started, thanking her rivals: the new leader, Adam Price and Rhun ap Iorwerth for their years of friendship and looking forward to working with them "for years to come".
Her promise that she would continue in politics drew cheers from the audience.
Then she tackled head on the criticism that as leader she had focussed too much on minority interests, to big applause from the hall.
This speech was 60% fierce and 40% reassuring – she promised to do her part in ensuring "we win in 2021".
The ferocity was tempered with humour, but, despite her recent defeat, it is clear that Leanne Wood is proud of the choices she made as leader.
'Don't listen when they tell you you're too nice'
Ms Wood said real independence is "about making Wales a country where everyone has a croeso, no matter where they come from".
She called for more young working class women to get involved in politics.
To cheers from party members, she said: "Don't listen when they tell you you're too nice, or too thick, or that your accent doesn't fit."
She vowed to continue to play a role "in encouraging more people who don't have a voice to use the political platforms and systems that are in place to ensure they are heard".
Earlier Adam Price said he would be the party's nominee for first minister after Welsh Labour elect Carwyn Jones' successor.
The move will trigger a vote in the assembly after the winner of the Welsh Labour leadership contest is announced.
Mr Jones faced deadlock in 2016 when Plaid Cymru, the Conservatives and UKIP backed Leanne Wood for the top job.
The deadlock was broken when Labour and Plaid forged a co-operation agreement.
At the time the Welsh Government did not have a majority, but that has changed since former Plaid AM Dafydd Elis-Thomas became a minister.
Mr Price told BBC Wales' Newyddion 9: "With the current first minister departing his role in December, this is a golden opportunity for change in Wales."
On Friday, Plaid backed moves to boost its number of female candidates by twinning constituencies.
It will identify 16 target seats which will be paired with each other – one constituency in the pairing will offer a male candidate, and the other a female candidate.
Labour has a similar arrangement, aimed at boosting female representation.