Northern: Minister 'should resign' over rail 'chaos'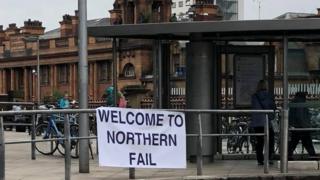 The RMT has called for Transport Secretary Chris Grayling to "get out" after days of "carnage" on Northern trains since a new timetable came in.
The union's general secretary Mick Cash said his members are facing public anger "without a shred of support" from Mr Grayling or Northern's management.
Greater Manchester Mayor Andy Burnham told the BBC he understands Northern will introduce an emergency timetable.
A spokesman for Northern said there will be "amended services" from Monday.
The company has fully cancelled 212 services so far today with all services on the Lakes Line between Oxenholme to Windermere affected.
A further 81 have been part cancelled (eg trains not travelling to their final destination or missing out certain stops on a route).
Passengers have faced widespread cancellations and delays since a timetable change was introduced on 20 May.
Since 18 May, more than 2,000 Northern services have been aborted.
Prior to the introduction of the new timetable Mr Burnham called for an investigation into Northern's performance because of frequent delays, "dangerous" overcrowding and cancellations.
Northern has previously said it suffered problems because of late running engineering works and having less time to prepare for the timetables, which meant drivers had not been able to complete specialist training for new routes.
Mr Burnham told BBC Breakfast: "We're hearing rumours now that the solution is they're going to introduce an emergency timetable from Monday where they will drastically reduce the number of services they're running. That is just unacceptable."
He said the change could involve a 50% reduction in services.
"The travelling public are having their lives turned upside down," Mr Burnham added. "The transport secretary needs to come out of hiding."
You may also be interested in:
A spokesman for Northern said: "We are looking at a number of options to address our current performance and as part of this process we are looking at a number of routes. No decision has yet been made."
Mr Cash said it is "disgusting" that Mr Grayling and bosses of rail companies have "dived for cover" and not faced passengers.
"Not only is Chris Grayling incompetent and not fit to run a railway but he is a coward as well, leaving RMT members to take the flack for failed policies that are his responsibility."
Earlier this week Mr Grayling wrote to MPs over the "wholly unsatisfactory" service on Northern and Govia Thameslink Railway (GTR) in the south of England.
He also criticised Network Rail, saying it "cannot cope" with the workload, and its performance was "simply unacceptable".
In response to Friday's delays, Mr Grayling issued a statement in which he said he is in "regular discussions" with Network Rail and train companies.
"I have been very clear with Network Rail that it was far too late in finalising planned timetable changes and this must not happen again," he said.
Wigan MP Lisa Nandy said Mr Grayling would meet with MPs on Monday when the Transport Select Committee will review the Northern and GTR franchises.
On Thursday, the chair of the committee, Lilian Greewood MP, said: "The Secretary of State, Network Rail and the train operating companies have questions to answer about the introduction of the timetables but also their management of the disruption, where once again communication with passengers has been woeful.
"As well as issuing apologies they should be accounting for the decisions they took that led to this complete shambles.
"A plethora of reviews have already been commissioned but it's not clear how these will relate to each other and be coordinated; the response to confusion cannot be more confusion."
Tony Miles from Modern Railways Magazine said there are two main problems for Northern.
"The biggest issue is Network Rail's delays with the electrification of the lines, particularly the one between Bolton, Manchester and Preston which should have been done by December," he said.
This impacts on drivers' training for new routes and new trains.
Additionally, engineering work can often be scheduled in at the last minute which means Northern has to do scheduling and rotas at short notice, Mr Miles said.
---
Are you a Northern passenger? Have you had problems making your journey today? Please email haveyoursay@bbc.co.uk with your stories and pictures.
Please include a contact number if you are willing to speak to a BBC journalist. You can also contact us in the following ways: