PM says Brexit plan to 'strengthen Union' ahead of Sturgeon meeting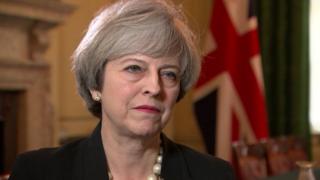 Theresa May will meet Nicola Sturgeon in Scotland later for the first time since the SNP announced their proposals for a second independence referendum.
At the beginning of a week that will see Article 50 triggered on Wednesday, the PM will say she wants to "build a more united nation".
Mrs May has said "now is not the time" for a Scottish independence referendum, as the Brexit process is due to begin.
Meanwhile, Labour is due to outline its Brexit negotiation demands later.
The prime minister is travelling to Scotland the day before Scottish Parliament is expected to pass a vote in favour of seeking a new Scottish independence referendum – which Ms Sturgeon wants to hold in autumn 2018 or spring 2019.
The first minister has said that a second referendum should be held ahead of the UK's EU departure to give the people of Scotland a choice between what she calls a "hard Brexit" and becoming an independent country.
Nut Ms May has warned that a second referendum will make the UK "looser and weaker".
Triggering Article 50 begins a two-year negotiation process to attempt to reach a deal before Britain officially leaves the EU in March 2019.
The government is also due to publish its Great Repeal Bill, giving powers to amend some EU laws, on Thursday.
But Shadow Brexit secretary Keir Starmer has said Labour will not support any Brexit deal unless it meets the party's "six tests".
Any deal must include a strong relationship with the EU and the exact same benefits the UK has from the single market, he said.
'Unstoppable force'
Ahead of Monday's meeting, Mrs May will address staff at the Department for International Development in East Kilbride.
She will say "the strength and stability" of the UK's union will "become even more important" as Britain leaves the EU – and the "one overarching goal" of her post-Brexit plan is "to build a more united nation".
"A more united nation means working actively to bring people and communities together by promoting policies which support integration and social cohesion," she will add.
"In Scotland, Wales and Northern Ireland that means fully respecting, and indeed strengthening, the devolution settlements. But never allowing our Union to become looser and weaker, or our people to drift apart."
The prime minister will praise the work done by the department around the world and will insist this will continue after Brexit.
"UK aid is a badge of hope for so many around the world," she will say.
"It appears on the side of buildings, school books, medical supplies and food parcels in some of the toughest environments and most hard-to-reach countries on the planet.
"And it says this: that when this great union of nations – England, Scotland, Wales and Northern Ireland – sets its mind on something and works together with determination, we are an unstoppable force."
Ahead of the visit, a spokesman for Scotland's Brexit Minister Michael Russell said there had as been "no discussion" with the Scottish government over what will be in the letter triggering departure from the EU.
He added that Scottish government had not been consulted over whether Scotland's interests will be represented, what role the Scottish government will play in negotiations, nor which powers the Tories intend to take for Westminster and which powers will be determined by Holyrood.
Mr Russell said there had also been no discussion over the the financial impacts of Brexit and "the consequences for jobs and the economy in Scotland".
He added: "There are clearly a lot of areas where we hope the prime minister intends to provide answers.
"We believe it should be for the people of Scotland to decide their own future, which is why we will return to parliament on Tuesday to seek a mandate to begin discussions on a referendum that will put Scotland's future in the people's hands."