Porn age-checks risk pushing children to dark web, officials warn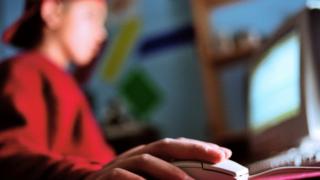 The government is concerned age-checks on porn sites could push children towards "more extreme material" on the dark web, it has emerged.
From May people will have to prove they are 18 before accessing UK websites.
Ministers say the move is part of a plan to make the UK "the safest place in the world for children to be online".
But officials have set out the potential risks of the policy in an impact assessment report.
The document says: "The potential for online fraud could raise significantly, as criminals adapt approaches in order to make use of false AV systems/spoof websites and access user data."
And it adds: "There is also a risk that both adults and children may be pushed towards ToR where they could be exposed to illegal activities and more extreme material."
'No single solution'
Tor is a reference to the most popular software used to gain access to the so-called dark web, the part of the internet that is unreachable using a conventional browser.
A spokesman for the Department for Digital, Culture, Media and Sport said: "There is no single solution, but age verification to protect young people from harmful pornographic content is an important part of our work to ensure that the UK is leading the way in online safety."
The Open Rights Group campaign said the government had "shot itself in the foot" with the age verification policy because it would force more web users "underground".
The campaign's legal director Myles Jackman said that would increase the risk of people accessing the kind of "extremist" and "hate speech" material Home Secretary Amber Rudd was trying to restrict and make it more difficult for the security services to monitor users.
The campaign has also raised privacy and security concerns over the storage of the personal details of the expected millions of web users signing up for age-verified sites.
Data protection
The new rules will be policed by the British Board of Film Classification, which will require internet service providers to block sites that fail to comply with the law.
The DCMS has said it takes data security "extremely seriously" and providers of age verification controls will be subject to data protection laws.
It is in talks with BBFC and the Information Commissioner's Office to ensure users are protected.
The impact assessment also highlights the fact that most "adult" websites are based in the United States, meaning that they will be out of reach of UK law.
But Digital Minister Matt Hancock has said he wants Britain to be a world leader in the regulation of web content and claimed "adult" sites in other countries have adopted the age verification idea.