RMT angry at Chris Grayling's rail fare index suggestion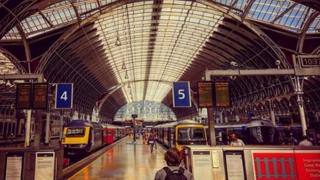 A suggestion that rail fare and wage increases should be linked to a lower inflation measure has sparked an angry response from unions.
Transport Secretary Chris Grayling wants future increases to be based on the lower Consumer Prices Index, rather than the higher Retail Price Index.
The RMT union accused him of trying to impose a "pay cap" on its members.
It comes on the day the government publishes the latest RPI figure, which will decide rail fares from January.
Under the current system, July's RPI sets the maximum rise for regulated fares in January.
That figure, which will be announced at 09:30 BST, is expected to be about 3.5%.
---
How would Chris Grayling's proposal have affected annual season ticket costs in January 2018?
A Brighton to London ticket would have been £39 cheaper (£4,293 instead of £4,332)
Gloucester to Birmingham: £37 cheaper (£4,071 instead of £4,108)
Woking to London: £30 cheaper (£3,218 instead of £3,248)
Liverpool to Manchester: £29 cheaper (£3,123 instead of £3,152)
Maidenhead to London: £26 cheaper (£3,066 instead of £3,092)
---
Mr Grayling said he wanted to see "lower levels of increases for passengers in future".
He also said that – if a lower measure of inflation is used to calculate ticket price increases – then it should be used for costs, including annual pay rises.
Mr Grayling told the BBC the lower inflation measure was "used by pretty much the whole of the rest of the public sector and much of the rest of our economy".
He said he was "very disappointed" by the unions' immediate reaction.
He acknowledged that – due to existing pay deals for rail workers – any changes would "not happen overnight".
Bank of England governor Mark Carney recently argued that the index had "no merit".
---
What is the difference between RPI and CPI?
Both RPI and CPI measure the rate at which the price of common items – such as bread, beer and cinema tickets – rise.
But the two measurements use different formulas to calculate the rate of inflation.
RPI, unlike CPI, also includes housing costs such as mortgage interest payments and council tax. It has been higher than CPI for years.
CPI takes into account that when prices rise, some people will switch to products that have gone up by less.
---
In response to the transport secretary's suggestion, RMT head Mick Cash said: "If Chris Grayling seriously thinks that front-line rail workers are going to pay the price for his gross incompetence and the greed of the private train companies he's got another thing coming.
"This is a basket case government and a lame duck transport secretary continuing all-out war on staff and passengers alike.
"RMT will fight any attempt to impose a pay cap on our members in a drive to protect private train company profits."
The RMT is organising protests on Wednesday outside stations in London, Birmingham, Cardiff, Leeds and Edinburgh against fare rises.
Mick Whelan, general secretary of train drivers' union Aslef, argued that cutting staff pay would not reduce passenger fares but only increase the profits made by railway bosses.
Research found the cost of rail travel has increased more than twice as fast as wages since 2008.
The TUC said fares have risen by 42% over the past 10 years, while nominal weekly earnings have only grown by 18%.
But the Rail Delivery Group – which represents railway companies – said passengers' fares were used wisely.
"For every pound paid in fares, 98p goes back in to running and improving the railway," said Paul Plummer, chief executive of the RDG.
"We are ready to work with all parts of the rail industry to improve value for money for our customers."
---
Are you a passenger or a rail worker? Tell us what you think of the proposal by emailing haveyoursay@bbc.co.uk.
Please include a contact number if you are willing to speak to a BBC journalist. You can also contact us in the following ways:
Or WhatsApp us at +44 7525 900971
Read our terms and conditions and privacy policy.