'Rogue' property agents to be targeted, ministers say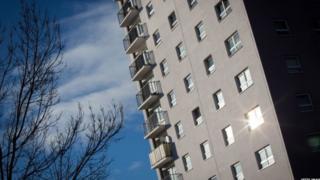 Plans to protect leaseholders and tenants in England from unfair costs are to be outlined by ministers later.
They say they want to clamp down on a "small minority of rogue agents" in the property management system who force consumers to pay over-inflated charges.
They will consider changing the law so all letting and management agents must be qualified and regulated to practise.
Between £2.5bn and £3.5bn a year in service charges are levied on the 4.2 million leasehold homes in England.
Increased transparency
In a speech on Wednesday, Communities Secretary Sajid Javid will launch a six-week "call for evidence", saying he wants to hear from people about whether a regulatory overhaul of the sector is needed.
He will pledge to protect consumers from unfair costs and excessive service charges and look at ways to place more power in the hands of consumers by giving leaseholders more say over their agent.
The review will also examine if a new independent regulatory body is needed – and if separate bodies should be established, for both leasehold and private rented management, and letting agents.
Other measures to be considered include whether leaseholder tenants should have a greater say over the appointment of managing agents and how transparency can be increased in the system so that tenants and leaseholders know what they are being charged for and why.
"Our proposed changes to regulate the industry will give landlords, renters and leaseholders the confidence they need to know that their agents must comply with the rules," Mr Javid will say.
Ministers say the problems apply not just to leaseholders but also some of the 4.5 million tenants in the rental sector, with overcharged costs for repairs and services often being passed down to tenants.