Stagecoach East Coast rail franchise to end early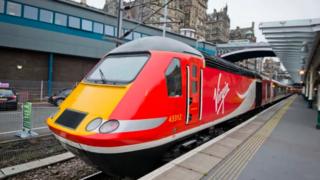 Stagecoach's contract to run the East Coast Mainline rail franchise will end earlier than expected after the government said the operator had "got its numbers wrong".
Transport Secretary Chris Grayling said Stagecoach would continue running the London to Edinburgh line only for "a small number of months".
The contract, originally due to end in 2023, has already been cut short once.
Mr Grayling said day-to-day operation of the line would be unaffected.
He told the House of Commons Stagecoach was set to lose about £200m, equating to more than 20% of its total market value.
But he said there was "no question of a bailout" for the company, which runs the franchise with Virgin.
Mr Grayling said he was urgently seeking a successor arrangement, but had not yet decided which company would be awarded the franchise.
He said Stagecoach would be allowed to continue operating the franchise on a short-term and not-for-profit basis.
East Coast Mainline could be brought back under government control as one of the options for maintaining the service.
Mr Grayling also said there were no legal grounds to prevent Stagecoach from bidding for current or future franchises.
And he announced that Virgin and Stagecoach had won an extension to operate the West Coast Mainline rail franchise.
Virgin and Stagecoach will now operate the London to Glasgow service from 1 April 2018 until potentially 31 March 2020.