Support the club, Momentum tells Labour council leaders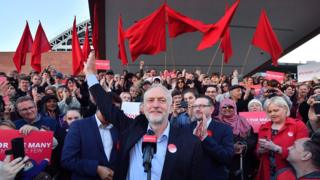 A leading figure in the pro-Corbyn Momentum group says there is no "sinister sub-plot" to unseat Labour council leaders.
But Laura Parker, the group's national co-ordinator, reminded them: "You join any club you support the policy of the club."
In an interview with BBC Newsnight, she played down reports of a power grab by her group, adding: "You don't join the cricket club because you want to play football.
"So, assuming that all of the Labour candidates are backing the Labour party policy on housing, on education, on local services, on restoring dignity to local government… we will be behind them."
Ms Parker said council leaders were likely to think about their future if they are unable to come to terms with Mr Corbyn.
"I think they will decide for themselves," she said of his critics.
Ms Parker was speaking after the London Evening Standard published a leaked tape of a Momentum activist suggesting that Simon Hogg, leader of the Labour group on Wandsworth council, should be replaced after next week's local elections.
Ms Parker played down the significance of the recording.
"Loose lips, sinking ships and all that. I think it was one person at one meeting who suggested they weren't enamoured with some of the Labour party policy to date.
"There is no sinister sub plot going on here. We are full square behind all of the people standing for Labour whichever political tradition within the party they come from. You shouldn't always believe what you read in the press," she said.
But Ms Parker said that Labour leaders in local government should accept changes introduced by Mr Corbyn.
Ms Parker said that some people in the Labour party had struggled to come to terms with Mr Corbyn's leadership.
"There will always be the odd one. But I am an optimist. I think the odd one will embrace the change. It just might take them a little longer to get there."
Momentum was established by the veteran Labour left winger Jon Lansman to provide grassroots support for Jeremy Corbyn's leadership in the Labour movement.
To find council candidates in your borough go to the London Elect website which will direct you to your council website.