Theresa May battles a sore throat and prankster in conference speech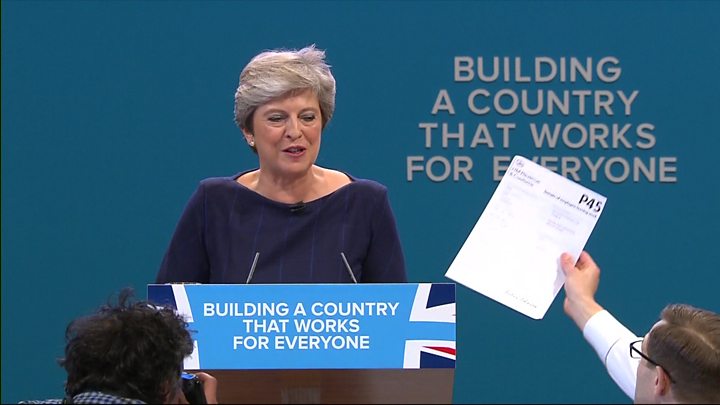 Theresa May has pledged to "renew the British dream" in her first speech to the Tory conference since the election.
The PM battled a sore throat – at one point being handed a boiled sweet by the chancellor – as she addressed the party faithful in Manchester.
She was also interrupted by a comedian, who handed her a P45, saying "Boris asked me to give you this," before being ejected from the hall.
She delivered a call for a "modern, compassionate Britain".
In what was meant to be a personal speech, setting out her values, she said the "British dream" that "life should be better for the next generation" was out of reach for too many people.
She was then interrupted by comedian Simon Brodkin – also known as Lee Nelson – who managed to make it to the podium to hand her a P45 for the foreign secretary.
After he was removed and she got encouraging cheers from the audience she joked that the only P45 she wanted to give out was to Jeremy Corbyn.
But she has been struggling to finish the speech because of a croaky voice, having to stop several times to drink water, and being handed a lozenge at one point from Chancellor Philip Hammond.
Mrs May outlined the reasons why she joined the Conservative Party more than 40 years ago, stressing that the things that have made her most proud in politics have not been the positions she has held, but "knowing that I made a difference – helped those who cannot be heard".
She announced that there would be an independent review of the Mental Health Act, to tackle injustice, and would press for justice to be done for the families of those killed and injured in the Grenfell Tower tragedy.
"That's what I'm in this for," she said.
As she spoke, a man handed the prime minister a P45, which Mrs May took from him and placed on the floor beside her lectern.
As party delegates shouted: "Out", the man – later identified as a comedian/prankster – was escorted from the conference hall.
'Reignite home ownership'
Turning to Brexit, Mrs May said she was "confident that we will find a deal that works for Britain and Europe". She also reassured European citizens living in the UK that "you are welcome here" and urged negotiators to reach agreement on this policy "because we want you to stay".
Mrs May said it had "always been a great sadness for Philip and me that we were never blessed with children", but she said this did not stop her wanting to help young people on to the housing ladder.
Hailing plans to "reignite home ownership" in Britain, she said the government plans to invest an additional £2bn in affordable housing, taking the total budget up to almost £9bn.
If ministers made the land available and gave young people the skills to build the houses, she challenged house builders to ensure they "build the homes our country needs".
The BBC's assistant political editor Norman Smith said the focus on council housing underlines Mrs May's readiness to intervene and use the public sector to build houses in a way not seen since the 1950s.
Damian Green, the prime minister's deputy, said the move marks "a significant change" for a Conservative government and "a rebirth of council house building".
"We believe in building more homes and we think we need to do this to meet the demand for all types, including council houses as well," he told BBC Radio 4's Today programme.
"We're going to make it easier for councils to build new houses for rent as well. The councils' concerns, the things that hold them back, will be part of the announcement – and what we expect this to do is start a rebirth of council house building."
Mrs May announced that the government will next week publish draft legislation to impose a cap on energy prices.
'Dig deep'
Having seen her Commons majority vanish after June's general election and facing calls to sack Foreign Secretary Boris Johnson over his interventions on Brexit, Mrs May has tried to use the conference to unite the party behind her "mission" to transform Britain.
On Tuesday she told the BBC she still had the authority to lead her party and insisted Mr Johnson's recent comments in newspaper articles had not undermined her.
Mr Johnson praised the PM in his much-anticipated conference speech on Tuesday, in which he also said it was time to "let the British lion roar" and called for Brexit to be a moment of national renewal.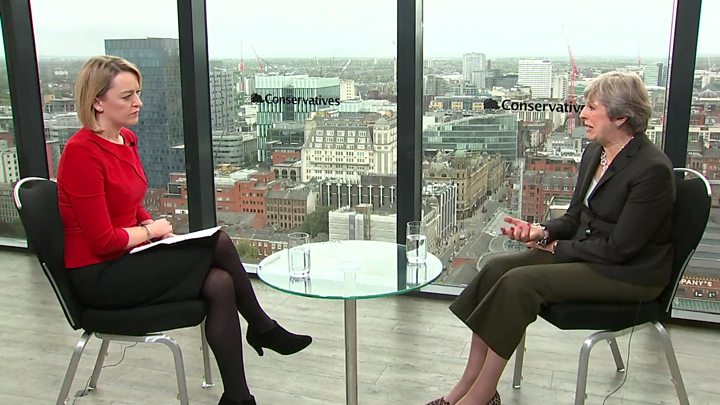 But the foreign secretary then faced criticism for remarks about Libya during a fringe event in Manchester.
In her Manchester conference speech, her second as party leader, Mrs May is expected to call on the party to "dig deep within ourselves" and go forward together.
"None of this will be easy," she will say. "There will be obstacles and barriers along the way."
"But it has never been my style to hide from a challenge, to shrink from a task, to retreat in the face of difficulty, to give up and turn away.
"And it is when tested the most that we reach deep within ourselves and find that our capacity to rise to the challenge before us may well be limitless.
"That is the story of our party. That is the story of our country. And that is the resolve and determination we need as we turn to face the future today."
Urging her party to focus on the needs of working people, she will say it should be "not addressing our concerns, but the issues, the problems, the challenges, that concern them", and "not focusing on our future, but on the future of their children and their grandchildren – doing everything we can to ensure their tomorrow will be better than our today".